Clarksville, TN – It's not often people become the first to do anything, and when they do they should be honored for such efforts.

Last Saturday (April 7th, 2012), thanks to his Austin Peay State University baseball team's 8-7, 17-inning victory over Eastern Illinois, APSU Baseball head coach Gary McClure became the first coach to EVER win 300 Ohio Valley Conference games.

It takes a long time to amass 300 victories and McClure sure has put in his time after 25 years as Austin Peay's Baseball coach.

And if anyone has Austin Peay in their blood it is Gary McClure, who got his bachelor's degree in 1987 from APSU and his Masters from APSU in 1988, his first year on the job as the Govs' head man. McClure is one of six OVC baseball coaches who are coaching at their alma mater, he of course having the longest tenure.

Gary is used to being in select company, because not many also know that he is only the second OVC coach to ever win 700 games. He accomplished that feat on May 1st, 2011, with a win over Morehead State, a game I was proud to have covered when I was with The Leaf-Chronicle.

Now McClure, with 732 victories, is just 44 wins away from tying former Murray State coach Johnny Reagan and his 776 career victories in becoming the all-time winningest coach in OVC history.

In my career, I've been lucky enough to cover a few men who were the all-time wins leaders, including former Clarksville High soccer coach Dave Donahue, the state of Tennessee's all-time winningest soccer coach; APSU men's hoops coach Dave Loos, the OVC's all-time winningest coach and Norm Stewart, the University of Missouri's men's basketball team's all-time winningest coach.

All we're great coaches and good men and Gary is too.

The best thing about Gary is he'll be the first to tell you that it takes having great players and great coaches, and a little longevity, to reach the milestones he has.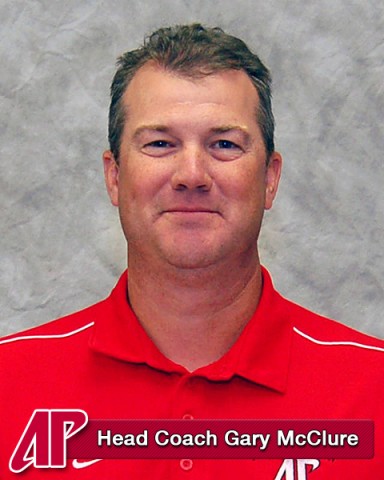 And honestly, he'd never bring up his accomplishments to anyone. Truthfully, there's really been little fanfare about what Gay just did, but really it's the way he'd rather have it.
But the real reason is because for Gary winning games means he's getting closer to winning a championship as he did with his fourth OVC Tournament title that came after his sixth regular season championship at the end of last season that led to the Govs knocking off No. 9 Georgia Tech in the Atlanta Regional. APSU didn't go on to advance, but it as just their second-ever NCAA Regional win and it was another game I was proud to have covered.
So Gary, congratulations on your accomplishment and here's to many more. The Govs complete their three-game series against Murray State Sunday at 1:00pm.
About James D. Horne
James D. Horne began his writing career at the Carrollton Missouri Democrat in 1995, and was the assistant sports editor/writer for the Hammond Louisiana Daily Star for two years.  In 1998, Horne became the Missouri Basketball beat writer for the Columbia Daily Tribune. He joined The Leaf-Chronicle in Oct. 2003 as the lead prep writer and became the Austin Peay beat writer in March of 2005. During his career he won a state association sports writing award at the Daily Star and two while at the Leaf-Chronicle.

Originally from Tampa, Florida, Horne earned his B.A in communications from Central Methodist University in Fayette Missouri.

Web Site: http://www.clarksvillesportsnetwork.com/
Email:
Sections
Sports
Topics
APSU, APSU Athletics, APSU Baseball, APSU Basketball, APSU Men's Baseball, APSU Men's Basketball, APSU Sports, Austin Peay State University, Clarksville High School, Clarksville Sports Network, Clarksville TN, Dave Loos, Eastern Illinois, Gary McClure, Georgia Tech, Morehead State, Murray State, NCAA Baseball Championship, Ohio Valley Conference, OVC, OVC Tournament, Tennessee, The Final Horne, The Leaf Chronicle, university of Missouri