Clarksville, TN – On April 30th, 2012, around noon, Police responded to a hold-up alarm at a business in the 1600 Block of Fort Campbell Boulevard. A man had entered the business, pulled a large handgun, and demanded money.
He held the three female clerks at gunpoint as they emptied an undisclosed amount of money from the cash drawers; the robber stuffed the money inside of his pockets. After he received the money, he ordered each of the women to retrieve their IDs and turn them over to him, at which time, he fled from the business.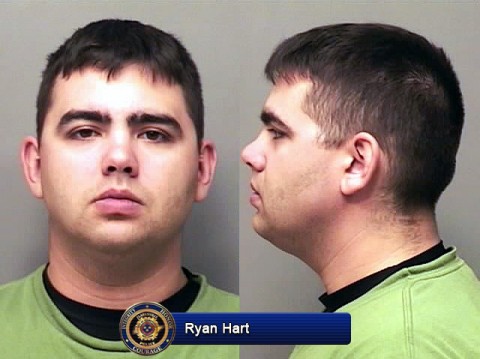 Officers canvassed the area, but the suspect could not be located. Detective Eric Ewing took over the investigation and was able to quickly determine the suspect's identity. The robbery suspect was identified as, Ryan Hart, a man who had frequented the business in the past.
Hart's address was tracked down to his residence in Oak Grove, KY. Oak Grove Police detained Hart until Clarksville detectives arrived on scene. Hart voluntarily accompanied detectives back to Clarksville to be interviewed.
During the course of the interview, Hart admitted to entering the store with a gun, taking the money and IDs. He later lead Police to a wooded area where he put the money and 40 caliber Glock in a buried cooler. The IDs were also found buried nearby.
Ryan Hart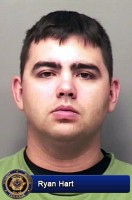 Name: Ryan Allen Hart (W/M)
DOB: 1/24/86
Given Address: 613 Kerri Lane, Oak Grove, KY
Arresting Officer: Eric Ewing
Booked Into: Montgomery County Jail
Charged With: Aggravated Robbery
Bond: $25,000.