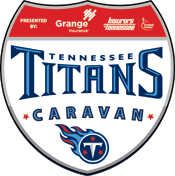 Clarksville, TN – Called the largest crowd ever by Tennessee Titans play-by-play voice Mike Keith, the Titans Caravan rolled into Clarksville and were greeted by throngs of fans at the Kroger at 1489 Madison Street, Monday night.
Quarterback Matt Hasselbeck, left tackle Michael Roos, corner back Jason McCourty, Titans mascot T-Rac and Keith — on the first day and sixth stop of the Caravan — signed autographs and took pictures with eager Titans fans for nearly two hours after first conducting interviews with the local media, including the Clarksville Sports Network and Clarksville Online.
The 14th Titans Caravan is a regional series of school visits and free, public autograph signings, sponsored by Grange Insurance and for the first time, the U.S. Army will be joining the Titans Caravan at public stops. The Caravan will make 50 total stops in Tennessee, Kentucky and Alabama from April 30th through May 11th. The Titans didn't hold a Caravan lost year because of the lockout.
Roos began the day with students from Greenbrier and Watauga Elementary Schools.
"It's been a fun day," Roos said. "It's our sixth stop and we've already been to a lot of elementary schools and public stops in Kentucky and Tennessee and it's been fun getting to meet our fans and getting the chance to thank them for supporting us."
Hasselbeck joined Roos at the Kroger in White House and then met with students at South Edmonson Elementary School in a private session.
"It's been a busy day" Hasselbeck said. "Mike started at 8:00am in the morning. I went to the workout in the morning and jumped on a bus right after that so it's been a long day, but the support has been awesome. We've been around Tennessee, been to Kentucky and it's been fun."
The day ended with three consecutive public stops: at the Shoe Carnival in Bowling Green, KY, at O'Charley's in Hopkinsville, KY and finally the  Madison Street Kroger, where McCourty joined the group.
"It's going to be a lot of fun," McCourty said. "A lot of the times we just meet the fans in Nashville. This is actually my first time in Clarksville so getting the chance to meet some of the fans is exciting."
And the fans were excited to meet the Titans, including two Clarksville High sophomore football players, 15-year old Tony Blakely and 16-year-old Nathaniel Johnson.
"It was great seeing Michael Roos, Jason McCourty and Matt Hasselbeck," Blakely said. "It was great to see NFL players up close."
Blakely, and aspiring offensive lineman himself, was also caught of guard by how big the Titans were saying, "They were pretty tall. They were bigger than I expected."
For Johnson, getting the see Hasselbeck was the biggest thrill, "He went to the Super Bowl with Seattle and he brought in really good experience."
Johnson also appreciated the fact the Titans came to Clarksville.
"You just don't get that excitement anywhere," he said. "Really only at the Titans Caravan."
Titans Caravan Gallery
14th Annual Titans Caravan Schedule
Tuesday, May 1st:
Time
City
Location
Player(s)
10:30am CT
Camden, TN
Wendy's (120 Highway 641)
Jason McCourty
3:30pm CT
Paducah, KY
Logan's Roadhouse (5317 Hinkleville Road)
Jason McCourty
6:00pm CT
Dyersburg, TN
Mobile Nation (490 Highway 51 Bypass)
Jason McCourty, Jared Cook
Wednesday, May 2nd:
Time
City
Location
Player(s)
3:30pm CT
Memphis, TN
Shoe Carnival (2261 North Germantown Parkway)
Jared Cook
6:00pm CT
Jackson, TN
West Tennessee Healthcare Complex (250 Bancorp S Pkwy)
Jared Cook, Alterraun Verner, Colin McCarthy
Thursday, May 3rd:
Time
City
Location
Player(s)
3:00pm CT
Centerville, TN
Pamida (1768 Highway 100)
Alterraun Verner, Colin McCarthy
5:00pm CT
Dickson, TN
O'Charley's (2409 Highway 46)
Alterraun Verner, Colin McCarthy
Friday, May 4th:
Time
City
Location
Player(s)
11:30am CT
Pulaski, TN
Holley's Printing (955 West College Street)
Mike Munchak
1:30pm CT
Fayetteville, TN
Town Gazebo (Fayetteville Square)
Mike Munchak
3:30pm CT
Shelbyville, TN
Kroger (1010 North Main Street)
Mike Munchak
5:30pm CT
Murfreesboro, TN
Kroger (2325 North Memorial Boulevard)
Mike Munchak
Monday, May 7th ("Legends Day"):
Time
City
Location
Former Player(s)
11:15am CT
McMinnville, TN
Kroger (1410 Sparta Street)
Blaine Bishop, Frank Wycheck
3:30pm CT
Gallatin, TN
Kroger (2011 Nashville Pike)
Blaine Bishop, Frank Wycheck
5:30pm CT
Mount Juliet, TN
O'Charley's (401 South Mount Juliet Road)
Blaine Bishop, Frank Wycheck
Tuesday, May 8th:
Time
City
Location
Player(s)
3:30pm CT
Cookeville, TN
Cane Creek Sportsplex (2200 West Jackson Street)
Rob Bironas, Jake Locker
Wednesday, May 9th:
Time
City
Location
Player(s)
3:30pm ET
Knoxville, TN
Academy Sports + Outdoors (145 Moss Grove Boulevard)
Jake Locker
6:30pm ET
Chattanooga, TN
Academy Sports + Outdoors (2200 Hamilton Place Blvd)
Jake Locker, Kenny Britt
Thursday, May 10th:
Time
City
Location
Player(s)
3:30pm CT
Huntsville, AL
Shoe Carnival (6275 University Drive NW)
Kenny Britt
6:00pm CT
Florence, AL
Buffalo Wild Wings (2870 Florence Boulevard)
Kenny Britt, Marc Mariani
Friday, May 11th:
Time
City
Location
Player(s)
1:00pm CT
Lawrenceburg, TN
Rotary Park (927 North Military Avenue)
Marc Mariani
3:30pm CT
Spring Hill, TN
Logan's Roadhouse (2008 Crossings Circle)
Marc Mariani
5:30pm CT
Brentwood, TN
Kroger (6690 Nolensville Road)
Marc Mariani