Austin Peay State University Athletics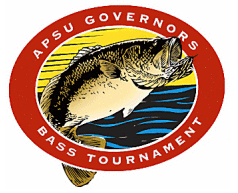 Paris Landing, TN – The first time was the charm for Kevin Tidwell and Eric Shelton.
Fishing together as a team for the first time in the 18th Annual Governors Bass tournament, the duo walked away with the $5,000 first prize in the annual event, held Saturday, May 12th at Kentucky Lake, with launching occurring from Paris Landing State Park.
A total 264 boats competed Saturday for $13,000 in prize money.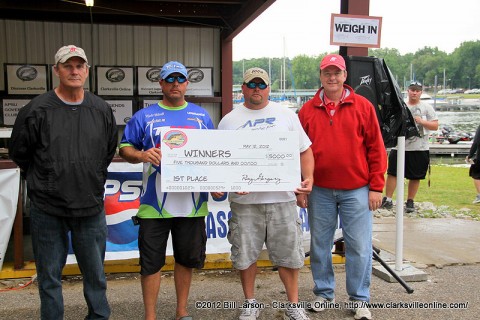 In fact, it was only the second Govs Bass Tournament for Tidwell, from Bon Agua TN, while Shelton, an Erin TN native, competed eight times previously with other partners. However, the pair, which began fishing tourneys together last year, couldn't have hooked up at a better time.
Their five-fish limit, Saturday, produced a haul of 24.78 pounds, more than three pounds better than second-place Don Anelunde and Ava Robinson, of Clarksville TN, who took home $1,500.
Tidwell/Shelton also finished second in the big bass pot with a 8.42 catch, which netted them another $984.00. The duo fished in deeper waters north of Paris Landing, mostly in brush piles and around stumps.
Steve Bower, of Mansfield TN, and Robert Barrow, of Atwood TN, captured the Big Bass competition with an 8.89 catch, netting them $1476, and also took third—and $1,000—in the overall standings with a total catch of 20.92 pounds.
The team of Trey and Josh Clary, of Old Hickory TN, took fourth with a 19.14 catch, good enough for $600.00 in prize money.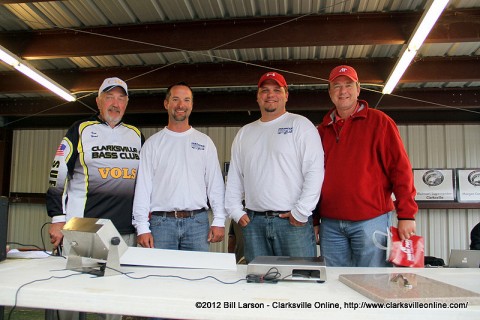 Jonathan Puckett, of Clarksville TN, and Michael Wilson took fifth for $400.00. Wilson, a last-minute substitute, won the grand prize door prize drawing of a 150HP Mercury FourStroke motor, valued at more than $13,000.
Before the 2012 competition concluded, more than 50 boats registered for the 2013 tournament, which is tentatively slated for May 11th next year.
Video – Start of the Tournament
Video – The Winners Announced
Photo Gallery