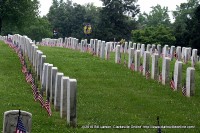 Dover, TN – Fort Donelson National Battlefield and Cemetery will host their Memorial Day Ceremony Monday, May 28th, at 1:00pm. Everyone is invited to attend.
Also, on this day set aside to honor the Veterans who have served our Nation proudly, the Cumberland Winds, a talented group of musicians will perform a free concert at Fort Donelson at 5:00pm. They will provide some beautiful Civil War era tunes, as well as tunes that pay tribute to our dear Veterans, living and deceased.
Visitors may bring their own chairs.
*Temperatures for Memorial Day are looking warm. Please bring water.