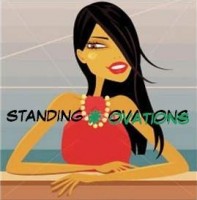 Clarksville, TN – People always want to leave a hair salon looking more attractive than when they first walked in, and meeting expectation is the goal of Standing Ovations, a well-known Clarksville hair studio which is located at 2764-C Wilma Rudolph Boulevard.
The studio is owned by James and his wife Kawanda Moss, and first opened its doors in October, 1996.
Moss has been familiar with Clarksville his entire life. His mother is from the Montgomery Central area, while his father originally lived in Christian County.
He was a gospel singer during his early adulthood, and also spent time in the military. However, it was his gospel roots that led him to his wife Kawanda. "She was the preacher's kid," Moss explained. Eventually, their relationship lit the spark that would lead to Standing Ovations.
"She was already a hairstylist when I met her. First, I was thinking about going to barber school, but she said 'work with me and do cosmetology.' God blessed us and we finally opened our salon in October of 1996. I'm enjoying every minute of it," Moss explained.
Moss is the most popular loctician in Clarksville. He styles and fixes the dreads (or 'locs) of lawyers, doctors, principals, professors, journalists, and other important members of society. Nashville gospel rapper Stephen "Duck" Williams is another high profile client of Moss. "You can sit there and talk to him about real life stuff. He won't be judgmental. He's the master of dreads in Clarksville."
Williams, like most of Moss' clients, formed an instant connection with the hair dresser. "I went to Standing Ovations that first day, and we clicked. He became a father figure to me." Moss is also renowned for his low prices. A hair wash and re-twisting for locs will cost only $35.00 or $40.00. "I set my prices where I want them. I'm not focused on what everybody else is charging. Price is not really important. We just believe in using the best product," said Moss.
Moss' popularity was an odd circumstance for his son, Aevorie, who also wears long dreads. "It's kinda strange how everyone knows him," he said. "I'm proud of him." Aevorie grew up watching his parents style hair, and has considered following in their footsteps. "I watched them grow their shop. It might be something I'll go into in the near future," he said.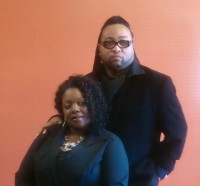 The salon is really popular for its smooth, laid back atmosphere. Standing Ovations is christian-based, with a 'no drama' policy. Tyrone Johnson is a client who has worn his hair in dreads for almost six years. He often visits the salon even when he isn't scheduled for a hair appointment. "It's like home. I come in here to talk and kick it with everybody."
Several summer ago, Moss taught natural hair classes at Miller Motte Technical College and Queen City Beauty College. He was a huge hit with the students. "I was teaching them different techniques," he said. The loctician showed the cosmetology students various demonstrations and offered quite a few tips. "They were really excited about it," said Moss.
Moss is also quick to explain that dreads are not a 'black' thing. "It's actually a spiritual thing…not an African thing." Moss has witnessed the meteorite rise of dreadlocks in popularity. "People want to do it now because their hair will grow really long without wearing weave," he said.
He also noted that 16 years ago when he started growing his dreads, there were not many salons that implemented the style. It was rare in those days to find a salon that fixed regular hairstyles and dreads in the same setting. Before finally getting a haircut last year, Moss' locs hung 27 inches from his head. If he'd never trimmed his hair since dreading it, his locs would probably be dangling around his ankles by now.
"This is our natural hair texture," Moss explained.  "People don't realize that this is how our (African American) hair will grow if we don't use chemicals and relaxers, but replaced it with natural stuff; the shea butters, the rosemary oils, and different things like that."
Despite the fact that people of all nationalities wear dreadlocks, there is still discrimination against the ethnic hair style. There are horrible rumors that people with dreads do not wash their hair. Some say that the style is dirty and carries a thug image. Others say that the style is linked to marijuana. All of these rumors are not true.
"The people who say these things don't understand that locs are a part of our natural (African American) hair. It's what our hair does when we don't comb it. Locs have been around since the cradle of civilization," Moss explained.
Although dreads have always been present in one form or another, the style is still discriminated against in various places. Some people have even had to cut their locs off in order to get professional jobs. Dreads are gradually becoming more and more accepted, but the style still has a while to go before it can triumph over discrimination entirely.
Dreadlocks became popular during the Rastafarian movement, and although the style was always present in the United States, its appeal gradually reached a high point in recent years. Whoopi Goldberg and Bob Marley were two of the first major celebrities to wear the style. Later on, it began to catch on as others adopted the style, including former heavyweight boxing champion Lennox Lewis, singer Lauryn Hill, and actor Malcolm Jamal Warner.
Standing Ovations performs a large variety of styles, not just dreads. Curls, hair coloring, crimps, braids, relaxers and weaves are among the assortment of styles performed by the staff.
For more information, go to www.standingovationssalon.com or www.jamesmosslocks.com. The salon is located at 2764-C Wilma Rudolph Boulevard (Austin Square) Clarksville, TN 37040. To reach Standing Ovations by phone, call 931.920.4232.