Nashville, TN – For generations food enthusiasts have praised the flavors and versatility of sausage. From humble beginnings on farms or in small markets, the world of sausage now encompasses an amazing variety of spicy meat products with origins from all over the world.
"Say 'sausage' in the South and the first thing that comes to mind is probably breakfast patties served with hot biscuits and gravy, but in some areas Cajun andouille or Mexican chorizo are preferred," observed the Martha White® baking expert Linda Carman. "Depending on where you live and your ancestry, sausage may mean Italian salami, Polish kielbasa, German frankfurters or any one of hundreds of other variations."
Invented from Necessity
As with many culinary classics, the invention of sausage was the result of necessity – the need to preserve whatever food was available for later use. Leftover scraps of meat were ground, seasoned, stuffed in casings, salted and cured or smoked for preservation
Over hundreds of years, this basic concept has evolved into a world of sausages that is varied, rich and beloved. Pork is the most popular meat used to make sausage, but it can be made with beef, veal, game, poultry and even seafood.
Culinary Favorite
Whatever variety you prefer, we can all agree that sausage adds a unique touch to everything from breakfast to trendy appetizers. Creative chefs are making their own signature sausages in-house and food aficionados are preserving the recipes of local and regional sausage makers.
For home cooks, the wide variety of sausage available today is a big help in creating great tasting family meals – from bratwurst on the grill to authentic spaghetti sauce. Combined with ground beef, sausage adds a new dimension to old favorites like meat loaf, chili or even hamburgers. Pork and smoked sausage, like kielbasa, add robust flavor to soups and stews, especially those made with beans. And, of course, dips, casseroles and one-dish meals get a boost from the bold flavors of sausage.
Sausage Jambalaya Cornbread Pie is inspired by the classic Cajun recipe, translated into a cornbread crusted casserole. Andouille, Cajun smoked pork sausage, is traditional, but kielbasa or smoked sausage may be used if you prefer.
Everywhere you look there is a resurgence of interest in old favorites like the "Sloppy Joe" which food historians think may have been first served in the 1940's. Our Sausage Sloppy Joe with Cheddar Biscuits gets a flavorful update by combining sausage and ground beef and serving on a crisp cheddar drop biscuit.
Beloved recipes from all over the world are celebrations of indigenous ingredients. Tuscan White Bean Soup and Hot Water Hoecakes are great examples of honest home cooking. White beans, whether cannellini or great northern beans, have been the inspiration for many delicious soups.
The Italian version is seasoned with Italian sausage and greens are added near the end of the cooking time. Similar to polenta, Hot Water Hoecakes are a testament to pure corn flavor and make the perfect accompaniment to the Italian inspired soup.
Named for the pioneer practice of cooking simple cornbread dough on the blade of a hoe over an open fire, hoecakes are still served in restaurants with everything from steaks to bean soup and are a favorite of good Southern cooks.
For more delicious recipes, visit www.marthawhite.com.
Sausage Jambalaya Cornbread Pie
with Parmesan Cornbread Crust
Ingredients
Filling
2 tablespoons Crisco® Pure Vegetable Oil
1 medium onion, coarsely chopped
1 medium green bell pepper, coarsely chopped
2 cloves garlic, minced
3/4 to 1 pound andouille, kielbasa or smoked sausage, sliced
1 (14 1/2 oz.) can chopped tomatoes, undrained
1/2 cup chicken broth
1/2 teaspoon dried thyme
1/2 to 1 teaspoon ground red pepper (cayenne)
Cornbread
1 large egg, beaten
1/4 cup Crisco Pure Vegetable Oil
2/3 cup milk
1 (6 oz.) package Martha White® Buttermilk or Cotton Country® Cornbread Mix
1/4 cup grated Parmesan cheese
2 tablespoons chopped fresh parsley
Directions
1. Heat oven to 425° F. Heat 2 tablespoons oil in 10 1/2-inch cast iron or other ovenproof skillet over medium high heat. Cook onion, bell pepper, garlic and sausage, stirring occasionally, until sausage is brown and vegetables tender, about 6 to 8 minutes. Stir in tomatoes, broth, thyme and red pepper. Bring to a boil; reduce heat and simmer 5 minutes. Remove from heat.
2. Combine egg, 1/4 cup oil, milk and cornbread mix; stir until well blended. Stir in Parmesan cheese and parsley.
3. Pour cornbread batter around the edges of filling. Place in oven and bake for 15 to 20 minutes or until cornbread is golden brown.
Makes 8 servings
Sloppy Joe on Cheddar Cheese Biscuits
Ingredients
Sloppy Joe
1 lb. ground beef
1/2 lb. bulk pork sausage
1 cup chopped onion
1/2 cup chopped green bell pepper
2 tablespoons firmly packed brown sugar
1 (8 oz.) can tomato sauce
1/2 cup ketchup
2 tablespoons Worcestershire sauce
2 tablespoons prepared mustard
1 tablespoon red wine vinegar
Salt and pepper to taste
Biscuits
Crisco® Original No-Stick Cooking Spray
2 cups Martha White® Self-Rising Flour
1/4 cup cold butter
1 cup shredded Cheddar cheese
3/4 cup + 2 tablespoons milk
Directions
1. Cook ground beef, sausage, onions and pepper in large skillet breaking up meat and stirring occasionally until browned and vegetables are tender about 6 to 8 minutes. Drain if needed. Add brown sugar, tomato sauce, ketchup, Worcestershire sauce, mustard and vinegar. Reduce heat and simmer 5 to 10 minutes. Add salt and pepper to taste.
2. Heat oven to 450° F. Spray cookie sheet lightly with no-stick cooking spray. Place flour in large bowl. Cut in butter with pastry blender or two knives until mixture resembles small peas. Stir in cheese. Stir in milk just until dry ingredients are moistened. Drop dough by 1/4 cupfuls onto prepared cookie sheet. Bake 10 to 14 minutes or until biscuits are golden brown. Cool 2 or 3 minutes. Slice biscuits with serrated knife. Fill each with about 1/2 cup Sloppy Joe mixture.
Makes 8 servings
Tuscan White Bean Soup with Hot Water Hoecakes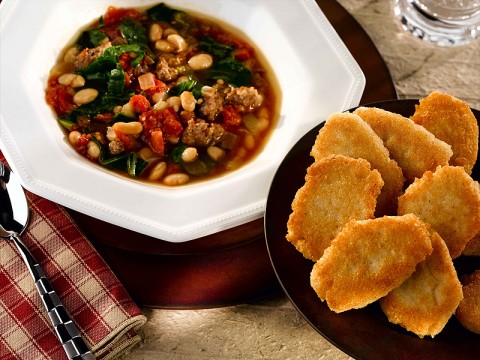 Ingredients
Soup
1 tablespoon Crisco® Pure Olive Oil
1 lb. bulk Italian sausage or Italian sausage links with casings removed
1 medium onion, chopped
1 cup sliced celery
2 cloves garlic, minced
2 (16 oz.) cans Great Northern beans, rinsed and drained
2 (14 1/2 oz.) cans chicken broth
1 (14 1/2 oz.) can chopped tomatoes, drained
1 bay leaf
3 to 4 cups coarsely chopped kale or collard greens
Pepper to taste
Hoecakes
1 cup Martha White® Self-Rising Corn Meal Mix
1 3/4 cups water
Crisco® Pure Vegetable Oil
Directions
1. Heat olive oil in large soup pot or Dutch oven over medium high heat. Cook sausage breaking up meat and stirring until browned. Remove with slotted spoon and drain. Cook onion, celery and garlic in drippings until onion is tender. Add beans, chicken broth, sausage, tomatoes and bay leaf. Bring to a boil and simmer 10 minutes. Add greens. Cover and simmer 20 to 30 minutes or until greens are tender.
2. Place corn meal in large mixing bowl. Bring water to a boil. Pour water slowly over corn meal, stirring constantly. Beat with a spoon until mixture is smooth.
3. Heat 1/4 -inch oil in skillet over medium high heat. Spoon cornbread batter by heaping tablespoonfuls into hot oil. Cook until golden brown, turning once. Drain on paper towels. Serve warm with soup.
Makes 6 servings of soup and 20 hoecakes
---
Crisco is a registered trademark of The J.M. Smucker Company.