Grant is one of nearly 900 to be awarded through the inaugural Darden Restaurant Community Grants Program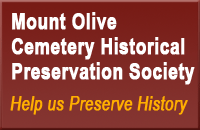 Clarksville, TN – Mt Olive Historical Preservation Society has received a $2000 grant as part of the inaugural Restaurant Community Grant Program from the Darden Foundation, the charitable arm of Darden Restaurants Inc.
The Restaurant Community Grant Program is a local grants program intended to help support nonprofit organizations in the hundreds of communities Darden and its restaurant brands serve. The donation will enable Mt Olive Society's Brandon Hill Youth Heritage Garden program to reach scores of young people in the Montgomery County community.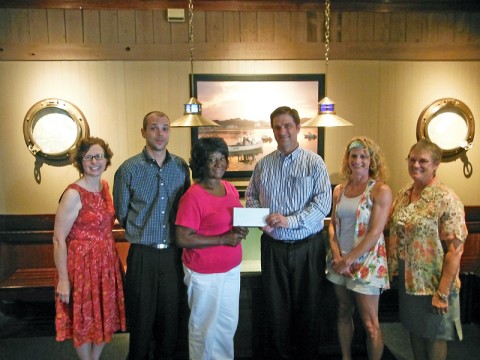 Managers of two local Darden stores met with Brandon Hill Garden supporters on June 30 over lunch in the Red Lobster located at 2838 Wilma Rudolph Boulevard in Clarksville.  Michael Malone, Red Lobster general manager, and Jon Rigdon, Longhorn Steakhouse manager, chatted with Brandon Hill Garden volunteers to learn more about how the program serves local youth.
On hand to describe the Youth Heritage endeavor were Tennessee State University Extension agent Karla Kean, University of Tennessee Master Gardeners intern Joanne Traughber, garden program founder Geneva Bell, and Mt Olive Society volunteer Beth Kasper.  The women, all of whom work with the youth at Brandon Hill Garden, described the many ways the program helps the community, including teaching children employment-related skills and providing vegetables to local food ministries.
"The Darden Foundation grant will help children in the Brandon Hill neighborhood of Clarksville learn how to grow and preserve nutritious vegetables.  It will help provide positive activities for young people during their times out of school.  Youths from all over Montgomery County have participated in Brandon Hill Youth Heritage Garden since its start," said Geneva Bell, Mt Olive Society 2nd Vice President.  "Our garden has inspired other groups and individuals to plant vegetable gardens of their own."  Brandon Hill Youth Heritage Garden is located at 1202 Commerce Street in Clarksville.
"Each grant is not just a check – it is an opportunity to make an impact, from in Oregon, to mentoring students in Phoenix and supporting environmental education in New England," said Drew Madsen, president and chief operating officer of Darden Restaurants, Inc. "Our service philosophy extends far beyond the walls of our restaurants. These grants bring that philosophy to life by helping to develop a better future for those we serve, one community at a time."
Restaurants within the Darden family – Red Lobster, Olive Garden, LongHorn Steakhouse, The Capital Grille, Bahama Breeze and Seasons 52 – are helping to award more than $1.7 million in local grants to nearly 900 exceptional nonprofit organizations nationwide. Nonprofits receiving grants support one of Darden's three key focus areas: access to postsecondary education, preservation of natural resources and hunger.
For more information about the Darden Foundation, please visit www.darden.com/commitment/community.asp . For additional information on Mt Olive Historical Preservation Society, please visit www.mtolivecemetery.org .
About Darden Restaurants
Darden Restaurants, Inc., (NYSE: DRI), the world's largest full-service restaurant company, owns and operates more than 1,900 restaurants that generate over $7.5 billion in annual sales. Headquartered in Orlando, and employing 180,000 people, Darden is recognized for a culture that rewards caring for and responding to people. In 2012, Darden was named to the FORTUNE "100 Best Companies to Work For" list for the second year in a row and is the only full-service restaurant company to ever appear on the list. Our restaurant brands — Red Lobster, Olive Garden, LongHorn Steakhouse, The Capital Grille, Bahama Breeze, Seasons 52 and Eddie V's — reflect the rich diversity of those who dine with us. Our brands are built on deep insights into what our guests want. For more information, please visit www.darden.com.
The Darden Foundation
The Darden Restaurants, Inc. Foundation is the charitable arm of Darden Restaurants, Inc. The Foundation's mission is to maintain a spirit of volunteerism and philanthropy as defining characteristics of Darden Restaurants. Since 1995, the Darden Foundation has awarded more than $60 million in grants. Total giving in fiscal year 2012 amounted to $7.8 million, 20 percent of which is represented by the Restaurant Community Grants Program. The Darden Foundation carries out its mission by focusing philanthropic efforts and resources on the following program areas: Access to Postsecondary Education, Preservation of Natural Resources and Good Neighbor Grants.