APSU Sports: Austin Peay Soccer

Clarksville, TN – Austin Peay State University women's soccer team opened the home schedule in style, Friday night, against Appalachian State. The Lady Govs used three second-half goals to upend the Mountaineers, 3-1, at Morgan Brothers Field.
The Lady Govs (2-1-0) fell behind early to the Mountaineers. A defensive breakdown gave Appalachian State's (0-2-0) Jenna Caudle a breakaway in the game's first minute, resulting in a blast to the left side that gave the Mountaineers an early one goal lead.
The remainder of the first half was fought primarily in the middle of the park. Both squads attempted just four shots in the opening 45 minutes. The Lady Govs offense regrouped at halftime and put together a much stronger push in the second half, resulting in 11 shot attempts after the break.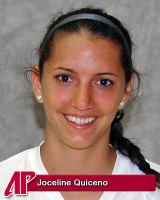 "We made some adjustments in the second half," said head coach Kelley Guth. "It changed the tempo of the game a little bit and got us a little more spread out."

Austin Peay got on the board in the 62nd minute thanks to junior Joceline Quiceno. A feed from junior Tatiana Ariza found Quiceno's foot and she put away the equalizer to the upper left corner.

Joceline's twin sister Andy Quiceno netted the game-winner in the 78th minute. Ariza, who flummoxed the Mountaineers for much of the second half with long runs and tight crosses, fit the ball through a crowd and Andy slid the ball past Appalachian State's Amy Kolowsky to the bottom left corner.

"Andy's really stepped up lately," Guth said. "We have a number of players that are capable of doing that. We don't have to rely on just one player to win a game for us."

"We came out in the first half kind of slow," said Andy Quiceno. "We really stepped up and played with some power in the second half."

Senior Emily Perkins provided the insurance goal in the 86th minute. A poor clear by Appalachian State and an athletic move from Perkins led to a breakaway that beat Kolowsky and ensured the Lady Govs victory.

Perkins led the Lady Govs with two shots on goal, while Tatiana Ariza led Austin Peay with three total shots.
Junior keeper Haylee Shoaff picked up two saves en route to her season's first victory. Kolowsky had five saves, four in the second half, in defeat.
"Our fans were great tonight," Guth said. "We got tremendous support from the community and the campus."
The Lady Govs have the remainder of the weekend off before resuming the season at 7:00pm, Tuesday, in a home tilt with Lipscomb.
Sections
Sports
Topics
Andy Quiceno, Appalachian State, APSU, APSU Athletics, APSU Morgan Brothers Field, APSU Soccer, APSU Sports, APSU Women's Soccer, Austin Peay State University, Clarksville TN, Emily Perkins, Haylee Shoaff, Joceline Quiceno, Kelley Guth, Lady Govs, Lipscomb, Mountaineers, Tatiana Ariza