Clarksville, TN – Hunter "Tick" Richardson, all 5'4″, 121lbs of him, is making a name for himself on the Clarksville golf scene.  Winner of last weeks Mayor's Golf Classic, "Tick" is set to tee it up this weekend in the season ending Tournament of Champions at Swan Lake Golf course.
Hunter Cole Richardson, 16, is the third child of Rick and Betsy Richardson.  Older sisters Ashley Baggett, 32, and Carlee Darnell, 22, cause Hunter to joke, "I was a mistake.  I was an oops baby."
A junior at Clarksville High School, Hunter plays for the CHS golf team and has his eyes focused on playing in college.  "I definitely want to play college golf.  Beyond that, I don't know.  There are thousands of kids like me who would want to play for a living one day, but that's a whole other level of competition" according to Hunter.
Golf was not Hunter's first choice in sports.  "I started playing baseball when I was five years old.  I was only exposed to golf by going with my dad to the golf course and hitting balls with a old set of wooden clubs while he was on the course playing.  I never really had a huge interest in the game, I just liked hitting balls and being with my dad."  Taking the game seriously, and becoming one of the best golfers in the city might not have happened were it not for a horrendous baseball injury that caused Hunter to never play baseball again.
While practicing with his travel team one day, Hunter was at shortstop shagging batting practice.  As he was picking up a ball, he heard someone shout "Heads Up" and that's the last thing Hunter remembered.  He was hit square in the nose with a line drive, fracturing his nose in four places and causing a concussion.  "I never played baseball again" said Richardson.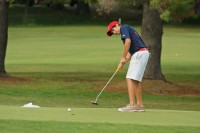 His father Rick remembers.  "Two of my kids have had trauma injuries to their face.  My middle daughter Carlee was injured in a four-wheeler accident, when the vehicle landed on top of her.  It ripped her tear ducts out of her face.  It's a miracle she wasn't blinded by the accident.  When Hunter was injured, I knew it was serious when I looked at him and he didn't know who I was.  Hunter was in shock.  I wouldn't ever wish that on any parent, but to have two children go through that, it was a terrible time."
After the accident, Hunter focused all of his time on golf.  He took lessons, but basically just played along with his dad when he went to the golf course.  His dad says, "I can't explain his talent.  It amazes me that he can handle himself the way he does on the course.  When you get in a win or lose situation, most of us tighten up under the pressure.  He's just blessed with an attitude about winning and losing, and he hates losing."
So what about the nickname, "Tick?"
"When I was playing baseball, my best friend Hunter Chesney was on the team.  He played third base and I played second.  When the coach would yell "Hunter" we would both look.  It became confusing, so the coaches decided to nickname us 'Tick and Flea' and it just stuck."
"Tick was an amazing baseball player, but I didn't pressure him to keep playing, or to take up golf.  I've seen too many kids in my time have the game shoved down their throats, and burn out at a young age.  I didn't want that" according to his father Rick.  "I just love going to the golf course and competing, said Tick.  My short game is the best part of my game, but I don't miss many fairways either."
Hunter won the Craig Rudolph Memorial Tournament last year, and the Mayor's Golf Classic last weekend.  His father said, "when he won the Craig Rudolph it was amazing.  There were golfers from all over the state competing here, and huge galleries following the leaders.  The pressure just didn't bother him.  What he did to beat Brian Balthrop last weekend just blew me away.  We knew Brian was going to birdie 18, and for Hunter to birdie 17 and 18 was something special."
So keep your eyes on the leader board this weekend during the Tournament of Champions.  All the insect repellent in the world might not be enough to avoid a "Tick" bite.