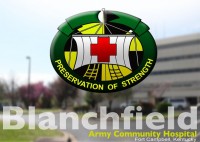 Fort Campbell, KY – Blanchfield Army Community Hospital will host the 6th Annual Remembrance Ceremony and "Walk to Remember" for those who have been affected by the death of a baby; their family, friends, support staff, Fort Campbell, and community members on October 24th.
Presented by the BACH Chaplain Office and Bereavement Support Committee, the ceremony will be from 12:00pm-1:30pm. The walk will start at 12:45pm.
The starting point for the walk is at the BACH A Entrance and is a 0.5 mile loop around the hospital.
The ceremony will commemorate National Infant and Pregnancy Loss Awareness Month and celebrate the short lives of our "Eaglets".
This special event will have a butterfly release, memorial cup cakes, and a handcrafted memento for each participant. There will also be a guest speaker, special music and time for reflection.