Clarksville, TN – On October 18th, 2012, around 12:30 am, officers were called to a club at the 1900 Block of Fort Campbell after security spotted three men flashing a large amount of cash and taking pictures of it. One of the men, James Jackson, had purchased drinks using counterfeit $20.00 bills which had the same serial numbers.
When officers arrived, they found Jackson with a large amount of $20.00 and $50.00 dollar bills in his possession which were counterfeit. Jackson resisted officers attempts to take him in custody, but officers were able to subdue him after a short struggle.
The other two men, Michael Long and Keith Warner were taken in custody without incident. Michael Long was found with synthetic drugs in his possession. Also, while Long was in an interview room, he put out a lit cigarette on the carpet leaving a burn mark.
$1000 in counterfeit $20.00 and $50.00 dollar bills were seized. All three men were booked into the Montgomery County Jail.
The lead investigator is Detective Dave Keenom, 931.648.0656, ext. 5279.
Michael Long
Name: Michael D. Long (B/M)
DOB: 1/28/89
Given Address: 3735 Misty Way, Clarksville, TN
Arresting Officer: David Keenom
Charged With: Criminal Simulation, Possession of Synthetic Drugs and Vandalism
Booked Into: Montgomery County Jail
Bond: $27,000
Keith Warner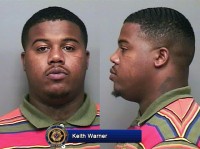 Name: Keith J. Warner (B/M)
DOB: 12/31/89
Given Address: 337 Cranklen Circle, Clarksville, TN
Arresting Officer: David Keenom
Charged With: Criminal Simulation
Booked Into: Montgomery County Jail
Bond: $5,000
James Jackson
Name: James T. Jackson (B/M)
DOB: 9/11/70
Address: 106 North 35th Street, Louisville, KY
Arresting Officer: Jason Kurtich
Charged With: Criminal Simulation and Resisting
Booked Into: Montgomery County Jail
Bond: $25,250