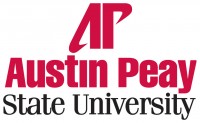 Clarksville, TN – Several faculty and staff at Austin Peay State University recently announced their latest professional and scholarly activities.
Christopher Burawa, with Cynthia Hogue from Arizona State University and Clyde Moneyhun from Boise State University, presented a panel, "Translating Living Writers," at the 2012 American Literary Translators Association annual conference held October 6th at the University of Rochester.
Dr. Linda Davis, associate professor of languages and literature, presented a paper, titled "In the Trenches: Getting Down But Not Dirty in Qualitative Research in Education," at the first Qualitative Research Conference held October 15th at APSU. The conference, sponsored by the Tennessee Board of Regents and APSU, was organized locally by Dr. Uma Iyer, professor of psychology.
In addition, Dr. Tatsushi Hirono, assistant professor of social work, presented a paper, "Is Suicide a Sin – In-depth Interview with Christian and Buddhist Clergy," at the Qualitative Research Conference.
Christina Chester-Fangman, associate professor of library science, Dr. Patty Orr, director of the APSU School of Nursing, and Dr. Melony Shemberger, assistant director of communication, also attended the Qualitative Research Conference.
Dr. Thomas King, professor of music, was elected to the board of directors of the Atlanta Capitol Opera Company. He will serve a three-year term, offering his expertise as a lifelong opera singer, music educator and entrepreneur. He continues to be a board member of the American Institute of Musical Studies in Graz, Austria.
Dr. Sergei Markov, associate professor of biology, recently published a chapter, titled "Biofuels Industry," in the book, "Survey of American Industry and Careers." The book is a new reference publication, designed for libraries at all levels as well as career placement centers. It is designed for undergraduate students, high school students and adults who are seeking employment in the field or researching careers.
Dr. Melony Shemberger, assistant director of communication, and Janet Velazquez, assistant director of career services, served as judges of the 2012-13 Kentucky New Era Academic All-Stars scholarship competition. The judging was held October 10th at Hopkinsville (KY) Community College.
Dr. Carter F. Smith, assistant professor in the department of public management and criminal justice, presented "Forget Internships; Bring Employers and Their Work to the Classroom: 12 Steps to Terrorist Identification, and Domestic Terrorism in the 'Next Eleven'" at the Southern Criminal Justice Association Conference held September 26th-29th in Atlantic Beach, FL. He also attended the 2012 Tennessee Gang Investigators Association Conference held August 29th in Nashville and presented an update on military-trained gang members.