APSU Sports: Austin Peay Soccer

Clarksville, TN – A two-goal effort from junior Tatiana Ariza and timely goalkeeping by junior Haylee Shoaff propelled Austin Peay State University women's soccer team to a 2-0 victory against Tennessee Tech in Ohio Valley Conference action, Friday, at Morgan Brothers Field.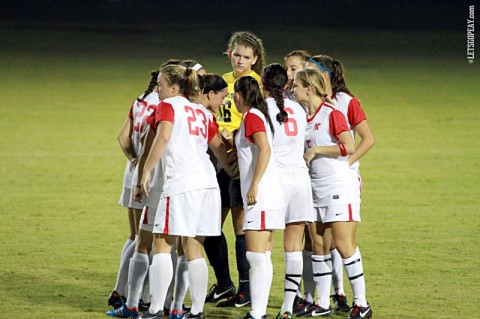 The Lady Govs (8-7-1, 4-2-1 OVC) helped themselves in the standings, along with getting some help from elsewhere in the conference. In addition to the Lady Govs win against Tennessee Tech (4-10-1, 2-5-0 OVC), Eastern Kentucky defeated SIU Edwardsville, Belmont and Southeast Missouri played to a scoreless draw and Murray State defeated Jacksonville State to vault Austin Peay into a tie for second place with Eastern Kentucky.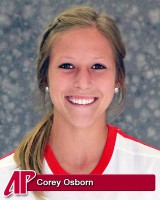 "Both teams were fighting for their lives tonight," said head coach Kelley Guth. "I expected it to be an emotionally-driven game, and it seemed like it was."
After a scoreless first half, Austin Peay netted two quick goals to start the second stanza. On a Lady Govs corner kick, Ariza snuck behind the defense and headed home a cross from junior Corey Osborn for her season's ninth goal. For the second time in as many home matches, the Lady Govs scored a goal short a player after Morgan Zigelsky was sidelined for a moment following injury and Austin Peay elected to play on a player down.
Tennessee Tech nearly answered two minutes later, slipping a shot past Shoaff for an apparent goal. Fortunately, a Golden Eagle was ruled offside and the goal was disallowed.
In the 55th minute, junior Andy Quiceno found Ariza with a pass, and the Colombian Olympian embarked on a winding drive to the net, bouncing off defenders and hurdling would-be tacklers before slipping a shot past the keeper for the goal.
Ariza's 10 goals breaks the tie for the conference lead with Tennessee Tech's Ellie Iaciofano, who was limited to one shot Friday.
"We focused on limiting the time she has in receiving the ball," Guth said. "She's very dangerous when she gets behind you. We did a great job keeping shape on our backline tonight."
Shoaff has come on like a freight train in recent weeks, shutting out four of her last five opponents after blanking Tennessee Tech. She made seven saves in the contest, while opposing netminder Jordan Brown made 12 saves in defeat.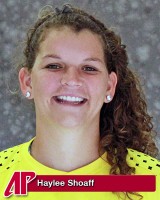 "Haylee's gained a lot of confidence as the season has gone along," Guth said. "(Assistant coach) Jeremy Sullivan has done a great job working with her. She's done a great job in becoming a leader in the back."
The Lady Govs now turn their attention to Jacksonville State, which visits Clarksville, 2:00pm, Sunday at Morgan Brothers Field; which will also be Senior Day for six Austin Peay players, who will be honored in a ceremony before the match.