Clarksville, TN – In August 2012, Clarksville Police received a Tennessee Department of Children's Services (DCS) referral in reference to an allegation of Aggravated Sexual Battery on Minor Children involving Dexter Mason. During the investigation three computers from the residence were seized. The computers were turned over to the United States Secret Service to be forensically examined for child pornography.
Dexter Mason and and his wife Mary Mason have been arrested after being indicted by the February 2013 Grand Jury.
The charges were levied after the ongoing investigation revealed over 150 images of children engaged in sexual activity or simulated sexual activity. Also, there was an attempt to prevent detectives access to a computer associated with the investigation.
Additionally, as the investigation progressed, it was determined Dexter Mason had inappropriately touched two juvenile females.
The lead investigator is Detective Tyler Barrett.
For more on the story, see: Clarksville Police charge Man with Sexual Exploitation of a Minor
Dexter Mason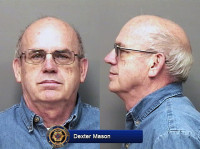 Name: Dexter Lavon Mason
Race: W
Sex: M
DOB: 3/24/46
Given Address: 421 Bluff Drive, Clarksville, TN
Arresting Officer: Donovan Newlove
Charged With: 21 Counts of Sexual Exploitation of a Minor, 4 Counts of Aggravated Sexual Battery, and 1 Count of Tampering with Evidence
Booked Into: Montgomery County Jail
Bond: $30,000
Mary Mason
Name: Mary Mason
Race: W
Gender: F
DOB: 10/24/46
Given address: 421 Bluff Drive, Clarksville, TN
Arresting Officer: Timothy Adair
Charged With: Tampering with Evidence
Booked Into: Montgomery County Jail
Bond: $10,000