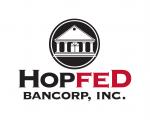 Hopkinsville, KY – HopFed Bancorp, Inc. (NASDAQ: HFBC) ("HopFed"), the parent company of Heritage Bank in Hopkinsville, Kentucky ("Heritage"), today announced that it has entered into a definitive agreement to acquire Sumner Bank & Trust (OTC Pink: SBKT), based in Gallatin, Tennessee ("Sumner").

HopFed has agreed to pay approximately $14.3 million in cash, or $10.04 per share, to purchase all of the common stock and common stock equivalents of Sumner, including common stock that would be issued upon the conversion of Sumner's convertible preferred stock upon a change of control (subject to adjustments).

Subject to Sumner's shareholder and regulatory approval, the companies anticipate the transaction will close in the third quarter of 2013.

In making today's announcement, John E. Peck, President and Chief Executive Officer of HopFed and Heritage stated, "We are excited about the opportunity to partner with Sumner. This partnership is an important addition for our company as it provides us entry into the attractive communities of Sumner, Wilson and Williamson counties in Middle Tennessee and Madison County in West Tennessee. We look forward to our partnership with Sumner and its management team as we participate in the growth opportunities that these wonderful communities provide."

Mike Cook, President and Chief Executive Officer of Sumner, stated, "The opportunity to partner with a strong publically traded community bank will enhance our relationship opportunities and allow us to continue to provide the highest quality of service to our communities. By partnering with Heritage, we can enjoy the benefits provided by a larger institution while keeping the community bank focus that we enjoy today."

Sumner Bank & Trust, a state chartered bank that opened in 2005, has full service banking centers in Gallatin (2) and Hendersonville, Tennessee, and loan production offices in Franklin, Lebanon, and Jackson, Tennessee. At December 31st, 2012, Sumner had total assets of $184.0 million, total deposits of $157.6 million and $121.6 million in loans outstanding.

More information about Sumner may be found on its website www.sumnerbankandtrust.com.

HopFed Bancorp, Inc. is the holding company for Heritage Bank headquartered in Hopkinsville, Kentucky. At December 31, 2012, HopFed reported consolidated assets of $967.7 million, total deposits of $759.9 million and $525.0 million in loans outstanding. Heritage has 18 offices in Western Kentucky and Middle Tennessee in addition to its subsidiary, Fall & Fall Insurance of Fulton, Kentucky. Heritage's operations include Heritage Solutions of Murray, Kentucky, Hopkinsville, Kentucky, Kingston Springs, Tennessee and Pleasant View, Tennessee, which offers a broad line of financial services. Heritage Mortgage Services of Clarksville, Tennessee, offers long term fixed rate 1-4 family mortgage loans in all communities in the Company's general market area.

Heritage offers a broad line of banking and financial products and services with the personalized focus of a community banking organization. More information about HopFed and Heritage may be found on their website www.bankwithheritage.com.

Raymond James acted as financial advisor and Jones Walker acted as legal counsel to HopFed Bancorp, Inc. Houlihan Lokey acted as financial advisor and Butler, Snow, O'Mara, Stevens & Cannada, PLLC acted as legal counsel for Sumner Bank and Trust.

This release contains "forward-looking statements" as defined in the Private Securities Litigation Reform Act of 1995. In general, forward-looking statements usually use words such as "may," "believe," "expect," "anticipate," "intend, "will," "should," "plan," "estimate," "predict," "continue" and "potential" or the negative of these terms or other comparable terminology. Forward-looking statements represent management's beliefs, based upon information available at the time the statements are made, with regard to the matters addressed; they are not guarantees of future performance.

All forward-looking statements are subject to risks and uncertainties that could cause actual results or financial condition to differ materially from those expressed in or implied by such statements. Factors of particular importance include, but are not limited to:

(1) changes in general, national or regional economic conditions;

(2) unprecedented volatility in the global economy;

(3) risk that the future business operations of HopFed and Heritage will not be successful;

(4) risk that HopFed and Heritage will not realize all of the anticipated benefits from our acquisition of Sumner;

(5) risk that the businesses of HopFed, Heritage and Sumner may not be combined successfully, or such combination may take longer, be more difficult, time-consuming or costly to accomplish than expected;

(6) failure of the parties to satisfy the closing conditions in the agreement in a timely manner;

(7) failure of the stockholders of Sumner to approve the acquisition;

(8) changes in interest rates or credit availability;

(9) credit risk of our customers;

(10) effects of the on-going correction in residential real estate prices and reduced levels of home sales;

(11) changes in accounting and government regulations and legislation;

(12) sufficiency of our allowance for loan losses;

(13) geographical concentration of our markets and economic conditions in these markets;

(14) risk that other governmental and regulatory approvals required for the acquisition may not be obtained; and

(15) other factors that are set forth in the "Risk Factors" section, the "Legal Proceedings" section, the "Management's Discussion and Analysis of Financial Condition and Results of Operations" section and other sections of HopFed's 2011 Annual Report on Form 10-K filed with the Securities and Exchange Commission.

All forward-looking statements can be affected by inaccurate assumptions or by known or unknown risks and uncertainties. Consequently, no forward-looking statement can be guaranteed. Neither HopFed and Heritage nor Sumner undertakes any obligation to update or revise any forward-looking statements, whether as a result of new information, future events or otherwise.

This communication is being made in respect of the proposed acquisition transaction involving HopFed, Heritage and Sumner. This communication does not constitute the solicitation of an offer to buy any securities or a solicitation of any vote or approval.



Sections
Business
Topics
Franklin TN, Fulton KY, Gallatin-TN, Heritage Bank, Heritage Mortgage Services, Heritage Solutions, HopFed Bancorp Inc, Hopkinsville KY, Jackson TN, John E. Peck, Kentucky, Kingston Springs TN, Lebanon TN, Madison County, Middle Tennessee, Mike Cook, Murray KY, Pleasant View TN, Raymond James, Sumner Bank & Trust, Sumner County, West Tennessee, Western Kentucky, Williamson County, Wilson County