March Is Brain Injury Awareness Month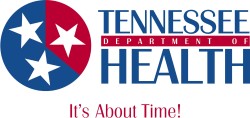 Nashville, TN – Your son who got his "bell rung" playing football. Your neighbor who hit his head on the windshield in a car accident. Your grandmother who fell on the sidewalk at church and hit her head. If you think you don't know anyone with a brain injury, think again.
Chances are good someone in your world has had a bump or jolt to the head that disrupts the normal function of the brain, known as a traumatic brain injury or TBI. The majority of TBIs are concussions or other mild forms of brain injury from which people fully recover. However, even with concussion, people with brain injury can suffer from a variety of symptoms such as headaches, sleep disruption, memory loss or depression.
"Brain injuries do not discriminate, and can happen to any one of us anywhere at any time," said TDH Commissioner John Dreyzehner, MD, MPH. "But many brain injuries are preventable, starting with a decision to wear a helmet when riding a bike or motorcycle or going skiing or snowboarding and to take even seemingly mild head injuries seriously. We urge Tennesseans to take time this March during Brain Injury Awareness Month to learn more about this issue and how they can prevent TBI and the significant personal, medical and lifetime disability costs that can go with it."
Tennessee Governor Bill Haslam has proclaimed March Brain Injury Awareness Month in Tennessee, recognizing TBI as a serious public health problem in Tennessee and the United States. In Tennessee, approximately 8,000 people are admitted to the hospital each year with a TBI. Approximately 1.7 million Americans suffer a brain injury every year.
Falls are the leading cause of brain injury, followed by motor vehicle crashes, events where someone is struck by or against an object and assaults. Statistics show children under age four, adolescents aged 15 to 19 years and adults aged 65 years and older are most likely to sustain a TBI. In every age group, TBI rates are higher for males than females.
The TDH Traumatic Brain Injury Program is collaborating with the Brain Injury Association of Tennessee to sponsor a one-day conference in Nashville March 22nd. The "Journey of Hope and Healing:  Taking Care of Yourself" conference is open to the public and is designed for brain injury survivors, their families and related professionals. The event will take place from 8:00am until 3:30pm at the Boone Convocation Center at Trevecca Nazarene University.
For more information, contact the TBI Program at 1.800.882.0611.
The TDH Traumatic Injury Program works to address the needs of individuals who have sustained a brain injury, as well as their family members and primary caregivers. Program staff members are available to respond to questions, make referrals and provide education and training. Learn more at http://health.state.tn.us/TBI/index.htm.
The mission of the Tennessee Department of Health is to protect, promote and improve the health and prosperity of people in Tennessee.
For more information about TDH services and programs, visit http://health.state.tn.us/.