Clarksville, TN -I simply can't put into words the sadness I'm feeling over the death of Nashville comedian, Brian E. Kiley.  I met him when I entered the Nashville comedy scene a few years ago. He was an amazing comic, and just one of the nicest guys I've ever met.
Brian E. Kiley was killed by a drunk driver as he drove home from a performance in North Carolina a couple of weeks ago.
The heart wrenching tragedy of this is being felt throughout the Nashville comedy community.  Brian was just a guy everybody was pulling for.  There was no doubt he was going to "make it."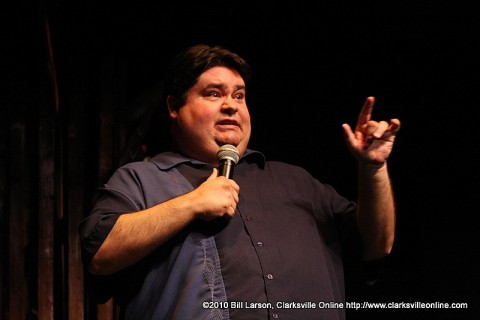 When I was first introduced to stand-up comedy, it was the early eighties.  I was working at a Nashville radio station, and we were doing some promotions at Zanies Comedy Showplace.  It was the early days of comedy in Nashville.
It was great.
I met people named, Leno, Seinfeld, Kinison and others.  Just a bunch of "no-names" trying to make the big time.  I wanted to do what they were doing.  I wanted to be a comedian.  I just couldn't make the sacrifice while raising a young family.
Fast forward to 2009.
I decided to start taking some comedy workshops offered by Rik Roberts "School of Laughs" in Nashville.  Rik would tell me, "it's never too late to get in the game."
Plus, I felt like I needed to recharge my radio energy and learn more about writing and performing.  His School of Laughs is an amazing launching pad for aspiring entertainers.  It was here that I got the "head start" on the world of stand-up comedy.
It's also how I met Brian E. Kiley.  He was going places.  He was going to be a good one.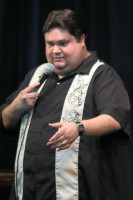 The Nashville comedy community is a very close knit community.  Most people outside of Nashville don't realize how many comedians live and work in Nashville.  Ralphie May, Henry Cho, Rik Roberts and others, call Nashville their home.  Other comics like Keith Alberstadt, and Nate Bargatze are from Nashville, now working out of New York.
It truly is a great comedy town.
Brian E. Kiley just wanted to make people laugh.  That's the way it is with most comedians.   Get onstage and hear the laughter.  Brian was a professional.
His stories about his life, and his struggles with his weight were exclusive to him.  He was just a guy that everybody could like.  A guy you had to pull for.  A guy who made you laugh.
The first time I worked with Brian, he was hosting an open-mic event at Zanies.   He was one of the best at getting the room excited about the show, even though most of us weren't very good.  He would always say, "good set" even if it wasn't.
That's the thing about comedy.  We know how difficult it is to stand in front of strangers and "crack the funny."  When it's good, it's great.  When it's bad, it's horrible.
Comics know that feeling.  We share it together.
As I was learning my way around the Nashville comedy scene, I put together a stand-up comedy benefit in Clarksville, called, "Comedy on the Cumberland."  Brian Kiley was one of the first to perform at that event.  I will always remember his comments after the show.
"That's the best set I've ever had in my life,  Clarksville is awesome!."
He really was amazing that night.
He would open his set with;
"Came into town today and had a little dinner at the Cumberland Grille.  It was great.  Apparently, that's where Clarksville sends it's old people to die."
Classic.
I never laughed so hard in my life.  You could hear me backstage.
Brian would come back a year later and do another show, by popular demand.
His close friend, and Clarksville comedian, Chris Killian remembers his good friend as he reacted to the news of Brian's tragic death;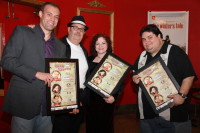 "My first and best real friend from comedy Brian E. Kiley was killed this morning in a terrible car accident.  He was truly one of the best dudes I knew and often acted as my moral compass.  This is the worst news I can imagine, and Brian absolutely did not deserve this. So sorry for his other friends and family, especially his new wife Amber and stepdaughter McKala.  Please, please, please RIP and I love you dude."
Keith Alberstadt, who shared the stage with Brian in Clarksville said;
" I'll always remember Brian as a very patient and big-hearted guy. I only did a few shows with him but he stood out as a comic who cared about more than just the show. He stretched beyond the normal parameters that define most comedians these days. Coming home to Nashville has always been something I look forward to, especially when people like Brian made the comedy community there so fun and enjoyable to be around. My thoughts and prayers are with the Nashville comedy family. It's a sad, tough time.
One of Brian's closest friends was fellow comedian Brian Bates, a Comedy on the Cumberland performer as well.
"He was just a great guy.  We worked a lot of shows together, and became very close.  I'm just heartbroken over his death.  It's been very hard on me and everyone who knew him."
Chad Riden, a veteran of the Nashville comedy scene and fellow Comedy on the Cumberland performer, described Brian Kiley this way;
"Brian E. Kiley did everything right. In an industry full of enormous egos and irrational senses of entitlement, Brian was very levelheaded, patient and realistic. He was a very hard worker. He wrote clean, accessible, energetic comedy and crowds loved him. He was a smart guy.. and a good man. Kiley had a good heart.. and a lot of heart.. and he is missed."
Brian's life was in such a good place.  After the loss of his mother last year, he met and married a former Clarksville girl, Amber Wurst.  She and her daughter were the absolute joy of Brian's life.  He worshiped them both.
Brian was also conquering his weight problem.  He had lost 100 pounds, and unless you've struggled with your weight, you can't appreciate what an accomplishment that is.  The last picture I remember him posting on Facebook was the one showing he didn't need the seat belt "extender" to fly to his next gig.  I was so proud and envious of his accomplishment.
I've made some very good friends through stand up comedy. The comedy community has been friendly and supportive to me.  I've loved making new friends, and watching them grow and refine their craft.
I'll miss Brian E. Kiley.
Video from July 20th, 2010 Comedy on the Cumberland