APSU Sports: Austin Peay Women's Golf

Murray, KY – The golfers battled rain, they battled wind along with terrible Miller Memorial Golf Course conditions. But when the windy and precipitation conditions became completely unbearable, Tuesday, it was time to halt the Time Warner Racer Classic.
As a result, Austin Peay State University women's golf team owns its first top five finish of the spring. The first-round 324 stood, leaving the Lady Govs in third place.
Murray State won the event with a 312 while Lipscomb was second at 321.
"I was really pleased with the way we were playing today," APSU coach Sara Robson said. "I was really proud how we came out and battled the conditions. We started at 9:00 (a.m.) and they were all between (holes) 9 and 12."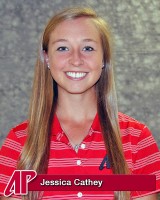 Freshman Jessica Cathey, one of only five golfers to break 80, Monday, finished the tournament in fourth place with her 78.
Junior Tala Mumford was tied for seventh with an 80 while senior Tabitha Beard finished just outside the Top 10 with her 81.
The Lady Govs should experience warmer conditions in their next event, next Monday and Tuesday, in the Lady Eagle Invitational, in Hattiesburg, MS.