Clarksville, TN – New APSU head coach Kirby Cannon took his football team to Governor's Stadium for the first day of spring practice today, thus beginning another chapter in Austin Peay football. The weather was brisk, but the squad looked like they were excited to be on the field, as Cannon started laying the groundwork for what hopes to be a winning program.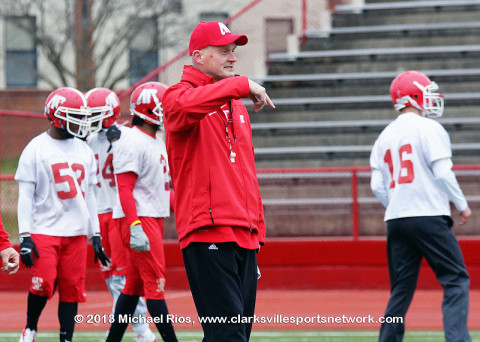 Cannon has been meeting with players and coaches since he was hired last week, and hopes to build an attitude of winning, that starts first with practicing like a champion.
"We're not going to load them up with a lot of things to think about except how to practice. I've been meeting with them, letting them know what our expectations are, and trying to get ready for practice" said Cannon.
Cannon replaces Rick Christophel who resigned to join the NFL, and takes over a team that went 2-9 last year. Cannon will coach linebackers this spring, working with Granville Eastman and Pat Donohoe. Former running backs coach J.D. Sellers will be working with the Govs quarterbacks, while Paul Derrick will work with the running backs.
Jason Palermo will handle the offensive line and Marcus Gildersleeve will handle wide receivers.
Austin Peay will be building a new stadium which should help with recruiting, and one of the reasons Cannon applied for the head coaching position.
"I know that this university believes in this football program, and it's not just something to do on a Saturday afternoon. We want to win games, and build a winning attitude" he said.