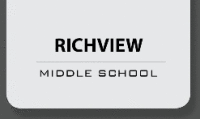 Clarksville, TN – Richview Middle School saw both its girls and boys golf teams advance to the region tournament, May 2nd at Swan Lake Golf Course, as the Lady Cowboys won the District M2 title — while the Cowboys finished second to Cheatham County Middle School.
The region tournament will be held in Nashville, TN at the Two Rivers Golf Course on May 6th and 7th, with the participating teams playing an hole 18-round each day.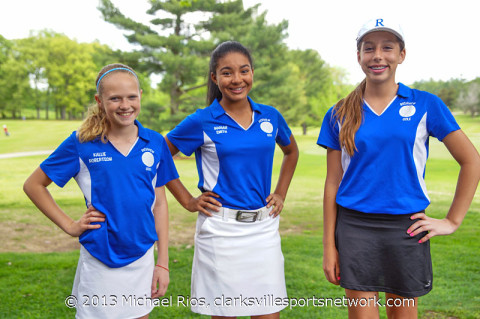 On the girls side, Richview Middle remained undefeated on the season, finishing with a team total of 90 — 13 shots ahead or runner-up Dickson County Middle (103).
"I thought we came out and played pretty well today," Richview assistant coach Leigh Ann Freeman said. "We're undefeated on the season and have played very competitively all year, including against some of the teams that we will probably face at the region tournament next week."
Overall, the Lady Cowboys had three of the top four scores posted, including the low medalist Mariah Smith's round of 43.
"It feels great and I'm pretty happy about it," Smith said. "I started off a little nervous on the first hole, but I recovered from that and as I kept going through my round the nerves settled down and I played much better.
"I had several pars in a row and I'll take that any day instead of a bogie."
Teammate Cameron Waltman finished second, four shots back, while Kallie Robertson (53) rounded out the Lady Cowboys scores.
Going at individuals — with the two top scored not on the winning team – are Dickson County Middle's Annie Garrett (50) and Marlee Downing (53), with Downing beating Montgomery Central Middle's Alexis Williams in a playoff.
On the boys side, Cheatham County Middle took the district title — finished four shots better than runner-up Richview Middle (374-378) – with Clarksville Academy Middle 24 shots back in third place.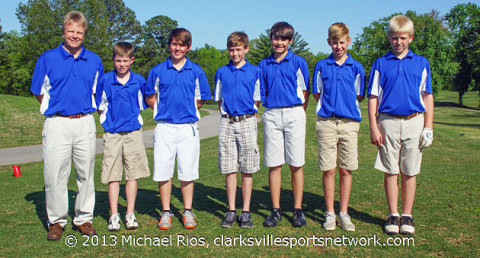 "This has been one of our goals all season long, in getting to the region tournament and I couldn't be prouder of this group," Richview Middle coach Terry Ray said. "We didn't play our best today, but it was good enough for us to advance and hopefully we play better next week at the regional.
"They're all good golfers and gentlemen on and off the course and their attitude is impeccable."
Despite the runner-up finish as a team, Richview did have the low medalist in Logan Reynolds – who came in with a round of 79, edging Cheatham County Middle's by one shot.
Rounding out the Cowboys scorers were Taylor Ray 95, Cole Freeman 101, Caleb Corley 103 and Hogan Wiggins 114.
Two other local golfers – Northeast Middle's Sean Gardner (84) and Clarksville Academy Middle's Bryson Batson (85) will also advance to the region tournament as individuals — with the two top scored not on a qualifying team.
Final Results
Girls Team Totals
Richview Middle – 90
Dickson County Middle – 103
Montgomery Central Middle – 114
Sycamore Middle – 118
Team Individual Scores
Richview
Mariah Smith – 43
Cameron Waltman – 47
Kallie Robertson – 53
Dickson Middle
Annie Garrett – 50*
Marlee Downing – 53*
Haley Garton 58
Montgomery Central Middle
Alexis Williams – 53
Nicole Stagner – 61
Alexis Wall – 64
Sycamore Middle
Taylor Tolman – 56
Ellie Frye – 62
*Region Individual Qualifier
Boys Team Totals
Cheatham County Middle – 374
Richview Middle – 378
Clarksville Academy Middle – 398
Northeast Middle – 399
Dickson County Middle – 424
Sycamore Middle – 425
Montgomery Central Middle – NTS
Team Individual Scores
Cheatham County Middle
Hunter Gibbs – 80
Ryan Mahoney – 90
Lucas Bagwell – 92
A.J. Andrews – 112
Nathanael Raymer – 112
Richview Middle
Logan Reynolds – 79
Taylor Ray – 95
Cole Freeman – 101
Caleb Corley – 103
Hogan Wiggins – 114
Clarksville Academy Middle
Bryson Batson – 85*
Samuel Nicholsen – 98
Auston Scott – 103
Caleb Evans – 112
Stone Norris – 112
Northeast Middle
Sean Gardner – 84*
Connor Marrott – 97
Dawson Brackett – 109
Earl Smith – 109
R.J. Ortiz – 118
Dickson County Middle
Austin England – 102
Trey Register – 105
Roger Tidwell – 108
Ty Crouch – 109
Julian Dalin – 115
Sycamore Middle
Kade Rochelle – 101
Max Schaber – 107
Jacob Imler – 108
Chaz Lachina – 109
Jacob Hunter – 121
Montgomery Central Middle
*Region Individual Qualifier