Clarksville, TN – Austin Peay State University football's "mini-recruiting class" will feature much-needed skill position help as well as offensive line depth.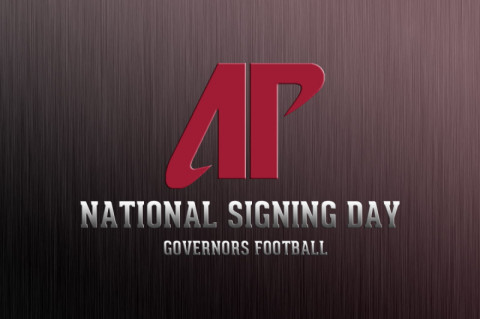 The Governors have announced the signing of 6-3, 195-pound quarterback Andrew Spivey, who passed for more than 3,000 yards and 33 touchdowns at the College of San Francisco; Earlzo Singleton, a speedy 5-10, 185-pound wide receiver from Rochester Community and Tech College; Derien Stephens, a 5-11, 195-pound athlete from Detroit, MI whose high school dropped football just days before the 2012 season, and offensive lineman Travis Williams, a versatile 6-4, 270-pound performer from Arizona Eastern Junior College.
These four additions are the first under new head coach Kirby Cannon.
"We certainly have some holes to fill," Cannon said. "All four of these young men have a chance to challenge for starting spots. We are calling it our recruiting 'mini-class.' Three of the four have experience, being junior college guys. We feel pretty good about all of them."
Spivey could provide immediate impact at the quarterback position. The Governors ended the spring with just two quarterbacks, one being a walk-on, on the roster. At College of San Francisco this season, Spivey completed 224 of 386 pass attempts (58 percent) for 3,014 yards. The Albany, CA, native opened the season by throw for 465 yards and six TDs against Diablo Valley and had two more games with more than 300 yards passing. He threw for at least two TD passes in 11 of 12 games this season, having six games with three or more.
In high school, he was two-time all-league quarterback at Albany after passing for more 3,000 career yards and 31 touchdowns. He comes from a football family. Both his dad and brother played Division I college football while uncle, Ted Connolly, played guard in the NFL for the 49ers
"He comes from an outstanding (junior college) program," said Cannon. "He is more a passer than a runner, but will run. He is very accurate (passer) and once he was not recruited by Pac-12 schools, he tried to find his best opportunity. He was very patient in his selection and we were able to get a commitment after a very good visit to Clarksville.
"He should provide immediate competition for the starting job. His plan is come to Clarksville in the summer, take a class and be ready to go."
If Spivey earns the quarterback nod this fall, Singleton figures as one of his prime pass targets. Originally from Clark Academy Magnet School in Chicago, IL,  Singleton has spent the last two seasons at junior college, first at Rochester (MN) Community and Tech College, although he didn't play football this past fall.
However, his freshman numbers at Rochester were impressive. He helped lead his team to the Minnesota Junior College title and No. 12 ranking nationally. He had 40 catches for 700 yards and 11 TDs. He also returned four kicks for scores. He was named to Minnesota College Athletic Conference all-league team as a freshman.
As a prep senior at Clark, he caught 41 passes for 1145 yards, averaging 27.9 yards per catch while hauling in five TDs.
"He is a well-built, quick wide receiver who also will help us in the return game," Cannon said. "He is the type who will challenge for a starting wide receiver job as soon as he gains knowledge of the offense. He is an upbeat, positive young man who took the long road to get here. He is going to be well-worth the time we spent getting him here.
"He gives us big-play potential. He does a good job of turning small gains into big ones. We certainly need some of that, especially while breaking in a new quarterback. He is an outstanding prospect who can come in and give us immediate pop from the wide receiver position."
The term "hidden gem" exists for players like Stephens. A top running back and defensive back in the Detroit area, he was on the radar screen of several mid-major Football Bowl Subdivision teams because of his production and speed—he is one of the top 100- and 200-meter sprinters in Michigan.
As a junior he rushed for 424 yards on 70 carries (6.1 ypc) at Dearborn Heights Annapolis. He also returned five kickoffs 187 yards (37.4 ypr) while as a linebacker he had 33 tackles, including six for loss.
"I knew about him at Central Michigan," Cannon said. "He has big-time speed and he demonstrated a lot of toughness when he had the football in his hands. He is very fast. He is a great kickoff return guy.
"People in recruiting just didn't want to take a chance on a guy who didn't have his senior year of film. Those circumstances had nothing to do with him. I know he was on everyone's radar screen and the next thing you know he didn't sign with anyone.
"He is an outstanding student and young man who fell through the cracks. We are very fortunate to get him."
As a junior in 2011, Stephens was an All-City choice for football along with being honorable mention all-conference. The school record holder (10.9) in the 100m, he is a two-time All-City choice in track and field along with being a two-time state qualifier in the event.
Williams was an 2010 All-State Mississippi Association of Independent Schools (MAIS) defensive lineman while also earning all-conference as an offensive lineman at Jackson Academy. The former state shot put qualifier initially signed with Delta State out of high school, redshirting in 2010. He left after one semester, transferring to Mississippi Gulf Coast Community College (Perkinston, MS), where he played his first junior college season.
He then headed west to Eastern Arizona (Thatcher, AZ) last season, playing both center and guard. He is expected to provide depth to an area that is expected to be one of the Govs' strengths this fall.
However, when both tackle Ben Stansfield and guard Chris Hartman were out this spring, depth certainly became an issue, so were snaps to the quarterback in the spread offense. The Jackson, MS, native has played all three line positions during his junior college career.
"What we like about Travis is he is a very good athlete," Cannon said. "He plays the game much like you want it played—he plays hard, he plays consistently and he is very versatile.
"Coach (Jason) Palermo and I both said he was like recruiting three players because he has the ability to play all three line positions. We are going to look at him at center to see if we can gain a little more experience in there and more consistency in our snapping."