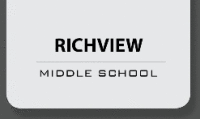 Clarksville, TN – Heading into its final tournament of the year, Richview Middle School girls golf team not only has a dream of a region tournament title on its mind it has perfection in its sites.

When the Lady Cowboys won the District M2 title May 2nd at Swan Lake Golf course by 13 shots over runner-up Dickson County Middle they improved their record to 24-0 on the season.

Only the region tournament in Nashville, TN, at the Two Rivers Golf Course on May 6th and 7th – is left between them and the prefect season.

"We talk to them all the time about just taking it one hole at a time," Richview Middle assistant coach Leigh Ann Freeman said. "We're a team that has a seventh- and sixth-grader on it, so we're not just beating everyone because we're a team of all eighth graders.

"This group plays in competitive golf tournaments in the junior ranks, so a setting like this (district tournament) is not overwhelming for them."
That might be an understatement, as the trio of Mariah Smith, Cameron Waltman and Kallie Robertson posted three of the top four scored in the district tournament.
"We talk about being undefeated sometimes," said Smith, who was low medalist in the district tournament. "But we're a team that knows if someone is having a bad day the rest will said 'we got this' and have the other players back. We just kind of balance each other.
"We also talk and help each other out if we're played on a course and the other person hasn't sharing information that we may know about the course or a specific hole."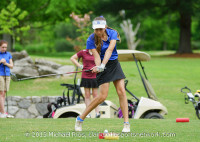 Richview Middle will be facing teams from District M3 (Nashville/Mt. Juliet area) and District M4 (Murfreesboro/Smyrna area) at the region tournament having already defeated Hendersonville Middle School and Mt. Juliet Middle School – two possible opponents already this season in matches.
Oakland Middle School and Rockvale Middle School qualified for the region out of District M4 on May 1st.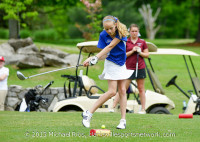 "We've stepped out of our district and have beaten teams like Hendersonville and Mt. Juliet in the regular season," Freeman said. "I think our chances are really good (for winning the region).
"The girls just need to come out, stay focused, and just do what we can do."
So far this season what Richview Middle can do is win. One more win for them would be just perfect.
About Chris Austin
Chris Austin is a graduate of Clarksville High School and Austin Peay State University.

Chris is a former Head Softball Coach for APSU, and assistant basketball coach for CHS.

Chris has worked at the Leaf-Chronicle, and WJZM News/Talk/Sports radio. Has also worked at the Sports Information Department at APSU, and has covered championship events for the Ohio Valley Conference and NCAA.

Chris is an avid sports fan and can be found at most Austin Peay State University sports events.

Web Site: http://www.clarksvillesportsnetwork.com
Email:
Sections
Sports
Topics
Clarksville TN, Golf, Kallie Robertson, Mariah Smith, May 2nd, May 6th, May 7th, Mt. Juliet TN, Murfreesboro TN, Nashville TN, Richview Middle School, Smyrna TN, Swan Lake Golf Course