Police request that anyone with information on this incident call Crime Stoppers 931.645-TIPS (8477)

Clarksville, TN – On Friday May 3rd, 2013 at 11:26pm, Clarksville Police Officer Jeffery Jackson was responding to a disturbance at the BP station located at Trenton Road and Tiny Town Road. Officer Jackson was traveling on I-24 westbound towards Exit 1.
As Officer Jackson's patrol unit traveled under the Meriwether Road bridge, near the 2.7 mile marker, an unknown individual or individuals dropped a large rip rap rock from the west side of the bridge as Officer Jackson's patrol unit went under the bridge.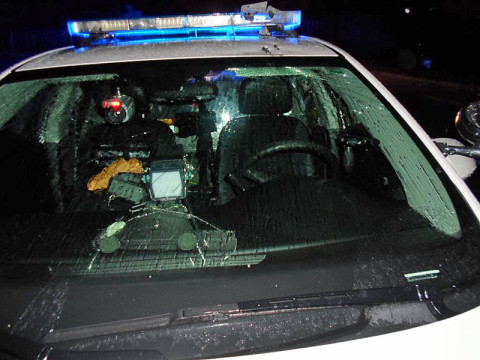 The rock struck the patrol unit's roof and light bar; thereafter, bouncing off the vehicle to the ground. The rock damaged the patrol unit's roof, windshield, and light bar.
Due to the nature of the incident, the unknown individual or individuals made a conscious decision to drop a rip rap rock from a bridge on the Interstate onto a vehicle traveling at a minimum of 70 MPH.
If anyone has any information that could lead to an arrest they are requested to call Crime Stoppers.
Crime Stoppers offers up to $1000.00 for information leading to the arrest and conviction of persons involved in a crime.
All Callers Will Remain Anonymous!
Crime Doesn't Pay! But We Do!
931.645-TIPS (8477)