Nashville, TN – The Perfect Ending to a Perfect Season. The Richview Middle School Girls Golf Team captured the 2013 TMSGA Middle Region Championship title May 7th at Two Rivers Golf course by 33 strokes over runner-up Oakland Middle School, improving their undefeated record to 28-0 for a perfect finish.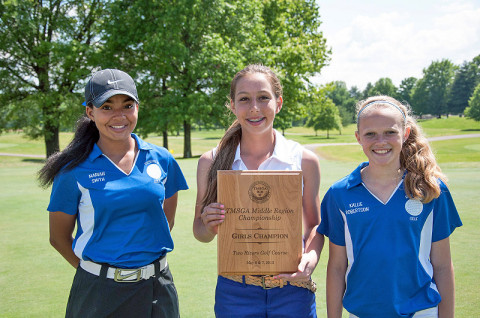 Overall, the Lady Cowboys had two of the top three scores posted, including the low medalist Mariah Smith (152) who finished with a first day total of 74 and day two score of 78, 30 strokes ahead of Oakland Middle School's second place finisher.
"I could have done better," said Smith. "I started out all over the place. I had some good holes, some bad holes but you can't control the past – you just got to make up for your mistakes. I left some strokes out there but overall it resulted in a good score."
Teammate Cameron Waltman (189) finished third with first day score at 93, day total of 96 while Kallie Robertson (207) rounded out the Lady Cowboys scores.
Richview girls team coach Leigh Ann Freeman contributed the team's outstanding win to their hard work, discipline, and determination. "They did such a great job these past two days, as well as throughout the season. I'm very proud of them."
Richview girls team members Smith (152) and Waltman (189) were named to the All Region Team with their 1st place and 3rd place finishes individually.
On the boys side, Mount Juliet Middle School (657) took the regional title. Richview boys (745) came in 7th place. Logan Reynolds placed third in the top three boys (159) earning a place on the All Region team.