Clarksville, TN – After carving out superb spring softball seasons, Austin Peay State University first baseman/pitcher Lauren de Castro and shortstop Kayla Davidson were honored by the Ohio Valley Conference, Tuesday night, being named first- and second-team All-OVC, respectively.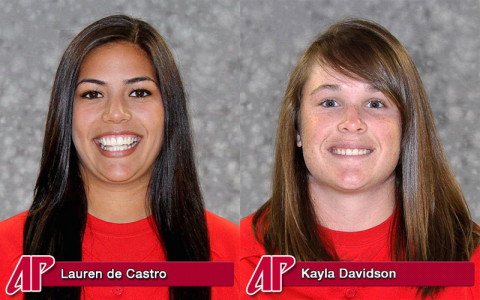 "I'm happy for Lauren and Kayla being named All-OVC after the types of seasons they put together this year," Austin Peay coach Stephanie Paris said. "They were both catalysts in our lineup and it's nice that they are getting the recognition for their hard work and accomplishments on the field."
For de Castro, who just completed her junior year, it is the second straight season being named to the All-OVC first team, becoming only the fourth Lady Gov to earn multiple-year selections as a first-team All-OVC selection. It is the 13th time a Lady Govs has been named to the All-OVC first team since softball became a conference sport in 1993.
"There's not enough I can say about Lauren and the type of player and leader she is," Paris said. "She is respected in the league by the teams and coaches she plays against and has shown over her career to be one of the top players in the OVC."
Splitting time between first base and the pitcher's circle, de Castro finished the season leading the Lady Govs offensively in batting average (.383), runs (33), hits (54), triples (5), home runs (8), total bases (99), slugging percentage (.702) and game-winning hits (5).
Those numbers were good enough to be in the Top 10 over in the conference in all games in triples, RBIs, total bases and slugging percentage. In conference games alone, the Torrance, CA native finished in the Top 10 in hits, runs, home runs, RBIs, total bases, slugging percentage, innings pitched, appearances and games started.
Meanwhile, as a pitcher de Castro paced the team in appearances (25), stats (22), complete games (13), shutouts (2) innings pitched (145) and strike outs (72).
For Davidson, the honor was the first regular-season conference selection for the junior shortstop, and the 19th time a Lady Govs softball player named All-OVC second team.
"I wasn't here last year, but Kayla has come so far this season," Paris said. "She is one of the top shortstops in the OVC and a leader on this team."
Davidson finished the season leading the team in walks (20) and on-base percentage (.420) while finishing second overall in batting average (.333), hits (42), doubles (11), home runs (7), total bases (74) and slugging percentage (.587).
The South Fulton, Tennessee, native's walk total was the eighth best in the OVC while in league games only, she finished in the top-10 in walks and doubles.