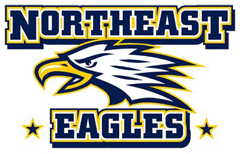 Clarksville, TN – Northeast High School's baseball team picked a bad day to have a bad game, as the Eagles saw their season come to an end, in the District 10-AAA Tournament Tuesday afternoon, with a 13-2 — five-inning — loss to the Henry County Patriots.
It was a struggle all the way around for Northeast, as the Eagles only scored two runs on four hits on offense, while four Eagle pitchers were tagged for 13 runs on 13 hits, while also walking seven and hitting four more.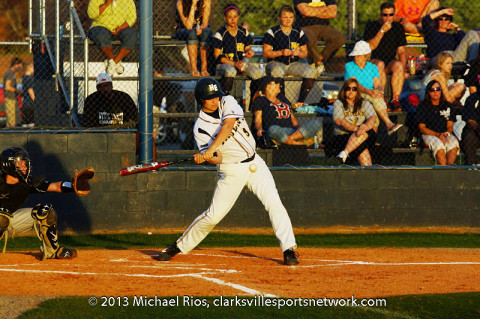 Things did start off well for Northeast, as they held the Patriots off the scoreboard for the first two innings, while taking a 2-0 lead in the bottom of the second inning.
Ben Wilford would get things started for the Eagles with a single and move into scoring position by stealing second base.
Luke Veltri would follow with a walk and both runners moved up when Henry County pitcher Drake Walker was called for a balk.
An out later, Shaquille Bermudez would drive in the Eagles first run with a single, while the second run of the inning for Northeast can in on a fielder's choice – with Eric Webster getting credit for the RBI.
But that would be the last of the good news for the Eagles on the day, as the Patriots responded by sending 13 batters to the plate in the top of the third inning – on their way to scoring eight runs – to take the lead for good.
Thomas Bomar was hit by a pitch to open the inning and moved to second on a single by Drake Walker.
A walk to Hunter McSwain would load the bases, with Bomar scoring Henry County's first run of the game a couple of pitches later – coming in on a wild pitch.
That opened the flood gates, as the next two batters drove in runs, to give Henry County a 3-2 lead, before Northeast would record the first out of the inning.
But that wouldn't slow the Patriots momentum, as they would score five more runs in the inning – highlighted by two run single by Bomar and Walker.
That inning would take the wind out of the Eagles sails, as they wouldn't get a runner past first base the rest of the way.
Henry County on the other hand would continue to add to its lead, scoring four more times in the fourth inning and one more in the fifth inning for the 13-2 final.
Box Score
Henry County 13, Northeast 2
| Final | 1 | 2 | 3 | 4 | 5 | 6 | 7 | | R | H | E |
| --- | --- | --- | --- | --- | --- | --- | --- | --- | --- | --- | --- |
| Henry County High School | 0 | 0 | 8 | 4 | 1 | x | x | | 13 | 13 | 2 |
| Northeast High School | 0 | 2 | 0 | 0 | 0 | x | x | | 2 | 3 | 1 |
Drake Walker and J.B. Stubblefield; Kody Doron, Evan Frawley (3), Matthew Heggie (4), Ben Wilford (5) and Shaquille Bermudez
WP-Walker; LP-Doron
HR: None