Topic: Pitcher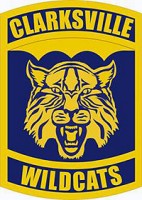 Clarksville, TN – Clarksville High School's hard-throwing, right-handed pitcher Donny Everett cast his lot with the defending NCAA Baseball National Champions Vanderbilt University, by signing a Letter of Intent on November 12th, in a ceremony held in the school's cafeteria.
The Commodores had shown interest is Everett since he was 15-year old; something that is more prevalent in football and basketball and at the time was almost unheard of in college baseball.
"I went to a showcase the summer of my freshman year and the Vanderbilt coaches saw me and we just sort of started talking form there," Everett said. "I just loved everything they had to offer with a great education, plus they really wanted me, so it was a great fit.
«Read the rest of this article»

Clarksville, TN – Austin Peay State University's baseball team completed its 2014 recruiting class, adding an infielder and five pitchers in the spring signing period.
Joining the Govs in the spring signing period were right-handed pitcher Caleb DeLee, of Collierville, TN; infielder Alex Robles, of Tucson, AZ; right-handed pitcher Jake Corum, of Blaine, TN; right-handed pitcher Mark Hendrick, of Albuquerque, NM; and right-handed pitcher Shane Lantigua, of Bartlett, TN.
«Read the rest of this article»

Omaha, NE – Postseason accolades continue to flow in as Austin Peay State University closer Tyler Rogers was named a Rawlings Second-Team All-America pick by the American Baseball Coaches Association, Thursday.
In addition, infielders Jordan Hankins and Craig Massoni received Second-Team All-South Region honors.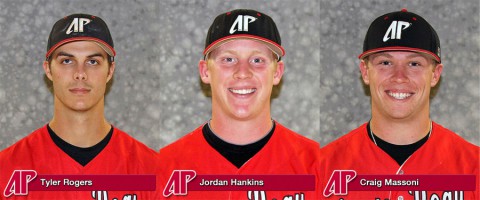 «Read the rest of this article»

Tuscon, AZ – Four Austin Peay State University baseball players were named to the 2013 Louisville Slugger All-America Teams as selected by Collegiate Baseball June 30th.
Junior first baseman Craig Massoni and senior outfielder Cody Hudson were second-team All-America selections – the program's first second-team honorees since pitcher Rowdy Hardy earned second team honors in 2005.
«Read the rest of this article»

Clarksville, TN – After carving out superb spring softball seasons, Austin Peay State University first baseman/pitcher Lauren de Castro and shortstop Kayla Davidson were honored by the Ohio Valley Conference, Tuesday night, being named first- and second-team All-OVC, respectively.
«Read the rest of this article»

Clarksville, TN – Some people are just created to do certain things. Jimi Hendrix was put on Earth to play guitar. Tiger Woods is a golf savant.
Jordan Hankins, it would seem, was born to hit baseballs.
«Read the rest of this article»