Clarksville, TN – Some people are just created to do certain things. Jimi Hendrix was put on Earth to play guitar. Tiger Woods is a golf savant.
Jordan Hankins, it would seem, was born to hit baseballs.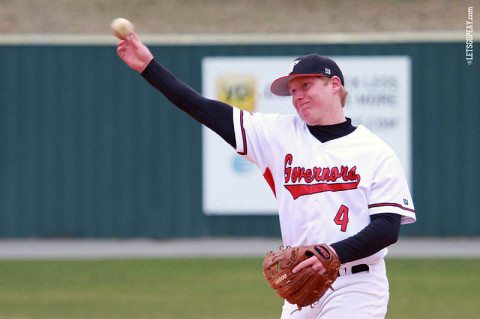 The Austin Peay junior has hit well north of .300 every year as a Governor. The Missouri-bred Hankins already owns several elite distinctions – fastest player to join the 200-hit Club, All-American, USA Baseball – that place him among the elites not just of Austin Peay baseball, but the Ohio Valley Conference.
Not that he's worried about any of that.
"One thing I learned from my USA Baseball experience is that no matter how good you think you are, every day someone is working just as hard if not harder than you are to get better," Hankins said. "You can't take each day for granted. It makes you hungry to keep working and keep getting better."
How much better can Hankins get? Possessed with a compact, powerful swing that limits his strikeouts and crushes home runs – he has 21 career home runs and a mere 58 strikeouts in two-plus seasons – his bat will succeed at almost any level. He still feels there are things he can do to impress.
"People know that I'm a hitter," Hankins said. "I'm still trying to show I can play second base, and have the range to succeed at the next level."
While his phenomenal batting eye has helped him along the way, Hankins' high leg kick at the plate is unorthodox, but works for him. According to hitting coach Derrick Dunbar, it's not something that's been worrisome to his coaches at any level.
"We've focused on repeating his setup and staying directional," Dunbar said. "He's a kid that can flat-out hit, and a lot of that is just God-given ability. I've talked with (Hankins' former travel ball coach) Rick Strickland quite a bit about his leg kick. It's something that, down the road, he may have to simplify a bit, but if it's not broke, I'm not going to try to fix it. As long as he's getting to a certain point when the pitcher releases the ball, and then to another point when the ball is in the hitting zone, I don't ever see it being a problem. "
A quiet confidence exudes from the second baseman. Secure in his own abilities, Hankins also believes in his teammates and his protection in the lineup. With guys like Craig Massoni (.361, eight home runs) and Cody Hudson (.358, 17 doubles, 15 steals) around him, Hankins understands the pressure isn't just on him to produce.
"Striking out is my biggest pet peeve," Hankins said. "My whole approach is to put the ball in play somewhere and be as productive as possible.
"I think it helps the rest of the lineup. It's my job not only to drive in those in front of me but to get on base for the guys behind me. It's great for me as well, knowing I have those guys behind me."
Out of Fort Zumwalt North High School, Hankins was focused on college more than the pros and felt that Austin Peay would be the best fit for him.
"I got a few looks out of high school, but I knew I wanted the college experience," Hankins said. "I knew I wanted to go somewhere I could play right away, and these coaches told me, 'You have a good swing. If you come in and do what you've been doing, you can play right away.' So for me, Austin Peay was the best fit."
Hankins decision was helped a bit by both his prospective coaches and former Gov standout Strickland, who coached Hankins' St. Louis Pirates summer travel team.
In his first season in Clarksville, he hit a team-best .351 and earned a spot on the All-OVC second team. On a roster riddled with freshmen and sophomores, Hankins was a key component of that squad's NCAA Regional appearance at Georgia Tech. He hit the game-winning home run against the host Yellow Jackets in the Govs lone victory in 2011.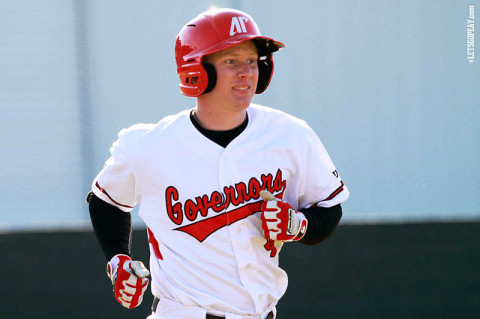 "We were a young squad my freshman year," Hankins said. "Playing a team like Georgia Tech was an awesome experience, and hitting the game-winner was one of the highlights of my life."
Last season, Hankins broke out in a big way. In addition to a .336 averaged and 10 home runs and a first-team All-OVC nod, Hankins was an ABCA All-South Region selection and an honorable mention All-American for CollegeBaseballInsider.com. On top of those regular season accolades, Hankins .400 average in the Govs 2012 Regional experience earned him a spot on the All-Eugene Region squad.
USA Baseball gave Hankins the ultimate recognition, however. Last summer, he was invited to play on the organization's Collegiate National Team on its Summer 2012 tour. In nine games, he hit .214 but had an on-base percentage of .450 and drove in three runs.
"Playing with USA Baseball was a great experience," Hankins said. "Being around those top-notch players and coaches, I was able to soak up everything and learn about the game. It allowed me to pay attention and watch from a totally different perspective. I was honored to get the opportunity to compete at that level. As a kid who just grew up loving baseball, it's a dream come true."
This season, Hankins is hitting .346 (third on the team), with seven home runs and 34 RBI (both second). His 18 multi-hit games are tied for the team lead with Hudson. He's spent the entire season in the No. 3 spot in the order, providing a level of stability to the Govs roster.
"Early on, I feel like guys were pitching around him a bit and he was trying to force things a bit," Dunbar said. "He's back to attacking pitches early in the count and being a force in our lineup. He's also developed into a good leader; when he speaks, guys listen to him."
As the season winds to a close, Hankins once more has a future to think of. June's MLB First-Year Player Draft is fast approaching and Hankins has received a fair amount of interest. He's done his best to put thoughts of the future on the back burner and concentrate on his present – a present that still includes the remainder of the regular season and hopefully a return trip to an NCAA Regional.
"The idea of being drafted is always there," Hankins said. "We've got the rest of the season to play. When you step between the lines, you don't think about the game or who's watching you. It's all about winning the game and playing ball with your best friends.
"We're so hungry to win that regional this year. We know what to expect and we mesh really well. Taking that loss last year really motivates us as a team. I hope we finish out the season the way we want it to, but it's been a dream come true."