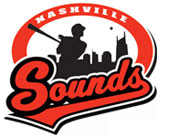 Nashville, TN – Hunter Morris and Caleb Gindl each homered to power the Nashville Sounds to a 5-3 victory over the cross-state rival Memphis Redbirds on Sunday afternoon at AutoZone Park.
The win gave the Sounds their first winning road series of the season as they took three of four from Memphis. Nashville (21-40) wrapped up its road trip with a 4-4 mark.
Left-hander Chris Narveson made his third rehab start for Nashville and took a no-decision after allowing three runs on five hits over 4 1/3 innings. He struck out four and did not walk a batter during his 63-pitch effort.
Memphis took a 2-0 lead in the second when Jermaine Curtis connected for a two-run homer to left off Narveson, the infielder's third roundtripper of the year. Jamie Romak also scored on the blast after opening the inning with a single.
Morris continued his recent power surge for the Sounds in the third when he swatted a game-tying two-run homer to dead center off Memphis starter Scott McGregor. It was the first baseman's third big fly in his last three at-bats, dating back to last night's victory. Caleb Gindl, who doubled earlier in the frame, also scored on Morris' 13th longball of the season.
The Redbirds reclaimed the lead in the bottom of the third when Ryan Jackson and Justin Christian connected for back-to-back one-out doubles off the rehabbing Sounds hurler.
Gindl (2-for-5) continued his red-hot road trip in the fifth when he connected for a three-run homer to right off McGregor (1-3), who took the loss, to power the Sounds to a 5-3 lead. The outfielder finished the eight-game swing with a .389 average (14-for-36). Narveson (error) and Hainley Statia (walk) also scored on the bomb.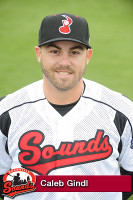 Memphis got the potential tying runs into scoring position against Zach Kroenke in the seventh following a two-out walk followed by a bloop double, but the Nashville left-hander popped up Brock Peterson to escape the jam with the two-run lead intact.
Kroenke (3-8) worked three scoreless innings of relief behind the rehabbing Narveson to earn his third victory in his last five outings after beginning the season with six straight losing decisions.
Rob Wooten took over on the Nashville hill for the ninth and worked around baserunners on second and third before fanning Peterson looking to close out the victory with a scoreless frame, earning his tenth save of the year.
The Sounds begin an eight-game homestand tomorrow evening at Greer Stadium by hosting the division-rival Omaha Storm Chasers (AAA-Royals) in the 7:05 p.m. opener of a four-game series. Right-hander R.J. Seidel (1-2, 2.93) will man the bump for Nashville and face rehabbing Omaha left-hander Danny Duffy (NR).
Box Score
Nashville Sounds (21-40) 5, Memphis Redbirds (32-30) 3
June 9th, 2013
1
2
3
4
5
6
7
8
9
R
H
E
Nashville Sounds
0
0
2
0
3
0
0
0
0
5
8
0
Memphis Redbirds
0
2
1
0
0
0
0
0
0
3
8
1
a-Struck out for Hensley in the 6th.
BATTING
2B: Gindl (14, McGregor).
HR: Morris, H (13, 3rd inning off McGregor, 1 on, 2 out), Gindl (8, 5th inning off McGregor, 2 on, 0 out).
TB: Chavez, O; Lalli; Prince; Davis, B 2; Gindl 6; Morris, H 4.
RBI: Morris, H 2 (32), Gindl 3 (38).
2-out RBI: Morris, H 2.
Runners left in scoring position, 2 out: Narveson; Lalli.
Team RISP: 2-for-6.
Team LOB: 7.BASERUNNING
CS: Davis, B (2, 2nd base by McGregor/Tartamella).
a-Struck out for Freeman, S in the 8th.
BATTING
2B: Jackson, R (17, Narveson), Christian 2 (12, Narveson, Kroenke), Wong (12, Wooten).
HR: Curtis (3, 2nd inning off Narveson, 1 on, 0 out).
TB: Wong 2; Christian 5; Curtis 4; Romak; Garcia, G; Jackson, R 2.
RBI: Curtis 2 (34), Christian (22).
Runners left in scoring position, 2 out: Romak 2; Peterson 4.
Team RISP: 1-for-7.
Team LOB: 9.BASERUNNING
SB: Christian 2 (9, 2nd base off Hensley/Lalli, 2nd base off Wooten/Lalli), Wong (9, 3rd base off Wooten/Lalli).FIELDING
E: Peterson (3, fielding).
DP: (Albitz-Peterson).
Pitches-strikes: Narveson 63-43, Hensley 13-5, Kroenke 44-26, Wooten 28-15, McGregor 91-57, Freeman, S 35-18, Blazek 13-10.
Groundouts-flyouts: Narveson 3-5, Hensley 0-1, Kroenke 4-3, Wooten 0-1, McGregor 7-6, Freeman, S 1-1, Blazek 0-1.
Batters faced: Narveson 18, Hensley 4, Kroenke 12, Wooten 5, McGregor 27, Freeman, S 9, Blazek 3.
Umpires: HP: Spencer Flynn. 1B: Brandon Misun. 3B: Quinn Wolcott.
Weather: 86 degrees, partly cloudy.
Wind: 10 mph, Out to CF.
T: 2:46.
Att: 6,978.
Venue: AutoZone Park.
June 9, 2013