Knoxville, TN – After a private screening at the Regal Riviera Theatre in downtown Knoxville on June 26th, "Pat XO," the much-anticipated Nine for IX documentary film about Pat Summitt will make its worldwide television premiere on ESPN at 7:00pm Central Time (8:00pm Eastern) on Tuesday, July 9th.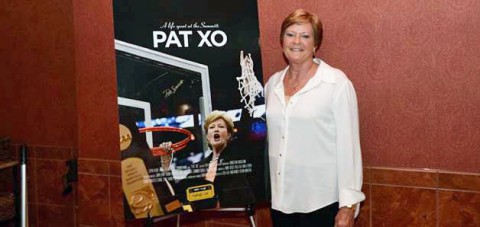 IMG College/Vol Network has reached an agreement with ESPN to distribute "Pat XO" on DVD through its online DVD store and also potentially through retail outlets in the state.
The DVD, priced at $19.95, will not be available for retail sale until September 10th, but pre-orders can be made online beginning July 9th at www.volnetwork.tv.
Directed by Lisa Lax and Nancy Stern Winters and produced by Robin Roberts for ESPN Films, "Pat XO" tells the remarkable story of Summitt as it has never been told.
This raw, authentic portrait takes the camera from the filmmaker's hands and places it into those who know her best.
The archival footage and statistical records woven into the film provide their own insights into a woman who cared about winning but also about elevating her players and her university.
With Tyler Summitt as the lead storyteller, moving recollections are shared by Summitt's assistant coaches, including current Lady Vol head coach Holly Warlick and assistant Dean Lockwood, and players such as Chamique Holdsclaw, Tamika Catchings and Michelle Marciniak, UConn head coach Geno Auriemma, and admirers Peyton Manning and Kenny Chesney. Writer and friend Sally Jenkins adds several poignant moments as well.
The DVD will feature the 51-minute documentary along with bonus features that include comments from the directors and 20 additional or extended interview segments not included in the film.