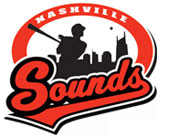 Nashville, TN – The Nashville Sounds snapped a six-game skid with a 7-6 victory over the cross-state rival Memphis Redbirds on Thursday evening at Greer Stadium in front of 7,721 fans in the opener of a four-game series.
Every Sounds starter recorded a hit in the contest except Hunter Morris, who drove in a run. Kentrail Davis enjoyed a successful Triple-A debut, going 2-for-4 with a pair of extra-base hits and an RBI on the night to pace three Nashville players with multiple-hit efforts.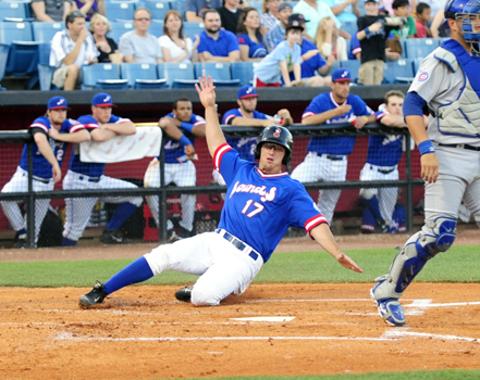 Nashville (33-62) improved to 10-3 in Thursday action this season, the club's most successful day of the week.
The Sounds grabbed a 2-0 lead against Memphis starter Nick Additon in the bottom of the first inning. After Josh Prince singled with one out, Kentrail Davis made his Triple-A debut by ripping an RBI tripled to right-center to bring in the night's first run. Morris followed with a sac fly to double the lead.
Memphis halved the Nashville advantage to 2-1 in the second when Adron Chambers led off with a double and scored on Tommy Pham's ensuing single to shallow center that just eluded the glove of a diving Scooter Gennett.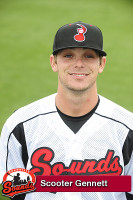 Nashville upped the lead to 5-1 in the home half of the second. Gennett smacked a two-out, two-run triple to the right-center wall to bring home Cole Garner and R.J. Seidel, and Prince followed with an RBI single.
The Redbirds plated an unearned run in the third following a fielding error by shortstop Blake Davis, then pulled within 5-4 in the fifth. Brock Peterson belted his league-leading 22nd home run of the year, a leadoff solo shot to left off Seidel, and Greg Garcia added a two-out RBI double.
Neither team scored again until the eighth when the Sounds tacked on a pair of insurance runs against Victor Marte to up the lead to 7-4. Blake Lalli (3-for-4) delivered an RBI double to left-center that drove in Khris Davis, who had preceded him with a single. Later in the frame, pinch-hitter Stephen Parker sent Lalli plateward with a run-scoring two-bagger of his own to right-center.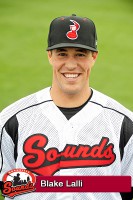 Memphis didn't go down without a fight against All-Star closer Rob Wooten in the ninth. Kolten Wong drew a leadoff walk before scoring on a two-out, two-run Chambers homer that made it a one-run contest. Wooten recovered to retire Pham on a game-ending popout to preserve the victory and earn his 18th save of the year.
Kyle Heckathorn (6-2) picked up the win for the Sounds after working 1 1/3 innings of scoreless relief while Additon (6-5) absorbed the loss after giving up five runs in five frames of action in his start.
The Tennessee rivals continue the series with another 7:05pm meeting on Friday evening. Left-hander Aaron Laffey (4-3, 5.61), who signed a minor league contract with the Milwaukee Brewers today, will make his Sounds debut and face Memphis southpaw Tyler Lyons (4-1, 3.42).
Gates will open at 5:35pm prior to the team's sixth Faith Night of the year, which features a pregame performance by Christian recording group Hawk Nelson. A fireworks spectacular will follow the on-field action.
Box Score
Nashville Sounds (33-62) 7, Memphis Redbirds (45-50) 6
July 11th, 2013
1
2
3
4
5
6
7
8
9
R
H
E
Memphis Redbirds
0
1
1
0
2
0
0
0
2
6
10
1
Nashville Sounds
2
3
0
0
0
0
0
2
x
7
13
2
a-Struck out for Rzepczynski in the 8th.
BATTING
2B: Chambers (12, Seidel), Garcia, G (15, Seidel), Pham (4, Sanchez, Je).
HR: Peterson (22, 5th inning off Seidel, 0 on, 0 out), Chambers (6, 9th inning off Wooten, 1 on, 2 out).
TB: Chambers 8; Wong; Garcia, G 2; Tartamella; Peterson 4; Pham 3.
RBI: Pham (9), Peterson (66), Garcia, G (13), Chambers 2 (35).
2-out RBI: Garcia, G; Chambers 2.
Runners left in scoring position, 2 out: Romak; Pham; Garcia, G 3; Wong; Tartamella; Peterson.
GIDP: Peterson.
Team RISP: 4-for-14.
Team LOB: 9.BASERUNNING
SB: Chambers (10, 2nd base off Seidel/Lalli), Wong (13, 2nd base off Heckathorn/Lalli).
PO: Pham (1st base by Seidel).FIELDING
E: Wong (8, missed catch).
a-Lined out for Heckathorn in the 6th. b-Doubled for Sanchez, Je in the 8th.
BATTING
2B: Davis, Ke (1, Additon), Lalli (9, Marte, V), Parker, S (13, Marte, V).
3B: Davis, Ke (1, Additon), Gennett (4, Additon).
TB: Lalli 4; Prince 2; Garner; Seidel; Gennett 3; Davis, B; Parker, S 2; Davis, Kh; Davis, Ke 5.
RBI: Davis, Ke (1), Morris, H (49), Gennett 2 (17), Prince (34), Lalli (18), Parker, S (24).
2-out RBI: Gennett 2; Prince; Parker, S.
Runners left in scoring position, 2 out: Morris, H 2; Gennett 2.
SF: Morris, H.
Team RISP: 3-for-11.
Team LOB: 6.FIELDING
E: Davis, B (13, fielding), Garner (4, fielding).
DP: (Davis, B-Gennett-Morris, H).
Pickoffs: Seidel (Pham at 1st base).
WP: Wooten.
Pitches-strikes: Additon 100-66, Rzepczynski 18-13, Marte, V 29-18, Seidel 101-60, Heckathorn 21-13, Sanchez, Je 27-21, Wooten 21-11.
Groundouts-flyouts: Additon 3-5, Rzepczynski 2-1, Marte, V 0-0, Seidel 8-0, Heckathorn 2-0, Sanchez, Je 3-0, Wooten 1-1.
Batters faced: Additon 25, Rzepczynski 6, Marte, V 6, Seidel 25, Heckathorn 5, Sanchez, Je 7, Wooten 5.
Inherited runners-scored: Rzepczynski 1-0, Heckathorn 1-0.
Umpires: HP: Marcus Pattillo. 1B: D.J. Reyburn. 3B: Greg Stanzak.
Weather: 83 degrees, partly cloudy.
Wind: 1 mph, Varies.
T: 3:16.
Att: 7,721.
Venue: Herschel Greer Stadium.
July 11, 2013