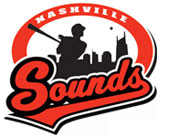 Nashville, TN – The Albuquerque Isotopes defeated the Nashville Sounds by a 9-1 margin on Wednesday evening at Greer Stadium.

Albuquerque right-hander Matt Magill (3-0) struck out 10 batters, including six in a row at one point, while holding the Sounds to one run on three hits over 5 1/3 innings of work to earn the win.

Eight different Isotopes batters drove in a run in the contest, the Sounds' eighth defeat in 10 games against Albuquerque on the year.

Third baseman Robinzon Diaz (3-for-4) recorded half of Nashville's six hits in the contest. He has hit safely in nine of his last 10 games at a .441 clip (15-for-34).

Albuquerque grabbed a 1-0 lead in the top of the first inning against Sounds starter Aaron Laffey. Dee Gordon opened the contest by legging out an infield single, stole his league-leading 37th base of the year, advanced to third on a throwing error charged to catcher Blake Lalli, and scored the night's first run on an Elian Herrera groundout.

Sounds left fielder Blake Davis knotted the contest in the second when his two-out triple to the right-center gap brought in Hunter Morris, who had opened the frame with a single.

The visitors pulled back in front, 4-1, in the fourth with three runs against Laffey on a pair of RBI singles sandwiched around a bases-loaded walk issued to Magill. Laffey (4-5) took his second loss in three starts for Nashville after allowing four runs (three earned) on five hits over his four frames of action.

Buss added to the Isotopes' advantage when he led off the fifth by greeting Sounds reliever Johnnie Lowe with his 14th home run of the year, a shot to deep right-center that made it a 5-1 contest.

Albuquerque tacked on another run in the sixth against Lowe. Magill continued to help his own cause by doubling to open the inning and later scored on a Scott Van Slyke sacrifice fly.

The Isotopes closed out the night's scoring in the ninth with three runs against the Nashville bullpen to bring the score to its final 9-1 standing.

The teams wrap up the four-game series with a 7:05pm finale on Thursday evening. Right-hander Johnny Hellweg (8-4, 2.61) will man the bump for the Sounds to face Albuquerque southpaw Rob Rasmussen (0-4, 5.74).
Box Score
Albuquerque Isotopes (59-46) 9, Nashville Sounds (37-68) 1
July 24th, 2013
1
2
3
4
5
6
7
8
9
R
H
E
Albuquerque Isotopes
1
0
0
3
1
1
0
0
3
9
12
0
Nashville Sounds
0
1
0
0
0
0
0
0
0
1
6
3
a-Singled for White in the 9th.
BATTING
2B: Espino (5, Laffey), Magill (1, Lowe).
HR: Buss (14, 5th inning off Lowe, 0 on, 0 out).
TB: Castellanos, A; Angle; Barden 2; Herrera, E; Espino 3; Magill 2; Buss 5; Gordon, D 2.
RBI: Herrera, E 2 (40), Barden (40), Magill (1), Buss (75), Van Slyke (31), Angle (49), Sellers (46), Castellanos, A (48).
Runners left in scoring position, 2 out: Stewart, I; Gordon, D; Van Slyke 4; Buss.
SAC: Herrera, E.
SF: Van Slyke.
Team RISP: 4-for-16.
Team LOB: 13.BASERUNNING
SB: Gordon, D (37, 2nd base off Laffey/Lalli), Van Slyke (4, 2nd base off Laffey/Lalli), Buss (15, 2nd base off Laffey/Lalli).FIELDING
DP: (Sellers-Gordon, D-Barden).
Pickoffs: Magill (Prince at 1st base).
a-Walked for Lowe in the 7th. b-Grounded into a double play for Dillard in the 9th.
BATTING
3B: Davis, B (4, Magill).
TB: Diaz, R 3; Davis, B 3; Morris, H; Davis, Ke.
RBI: Davis, B (24).
2-out RBI: Davis, B.
Runners left in scoring position, 2 out: Laffey; Morris, H 3; Prince.
GIDP: Parker, S.
Team RISP: 1-for-9.
Team LOB: 8.BASERUNNING
PO: Prince (1st base by Magill).FIELDING
E: Lalli (6, throw), Morris, H (5, throw), Diaz, R (4, fielding).
DP: (Prince-Morris, H).
WP: White.
Balk: Magill.
IBB: Castellanos, A (by Lowe).
HBP: Buss (by Laffey), Sellers (by Dillard).
Pitches-strikes: Magill 90-54, Patterson 34-20, White 21-13, Ortega, A 22-12, Laffey 82-46, Lowe 44-28, Webb 47-24, Dillard 14-10.
Groundouts-flyouts: Magill 1-2, Patterson 3-1, White 1-2, Ortega, A 1-0, Laffey 10-2, Lowe 2-4, Webb 1-0, Dillard 1-1.
Batters faced: Magill 20, Patterson 8, White 4, Ortega, A 4, Laffey 22, Lowe 14, Webb 10, Dillard 3.
Inherited runners-scored: Patterson 1-0, Dillard 3-2.
Umpires: HP: Tom Woodring. 1B: Gerard Ascani. 3B: Joel Hospodka.
Weather: 83 degrees, partly cloudy.
Wind: 7 mph, L to R.
T: 3:38.
Att: 3,444.
Venue: Herschel Greer Stadium.
July 24, 2013
Sections
Sports
Topics
Aaron Laffey, Albuquerque Isotopes, Blake Davis, Blake Lalli, Dee Gordon, Elian Herrera, Greer Stadium, Hunter Morris, Isotopes, Johnnie Lowe, Johnny Hellweg, Matt Magill, Nashville Sounds, Nashville TN, Pacific Coast League, PCL, Robinzon Diaz, Scott Van Slyke, Sounds