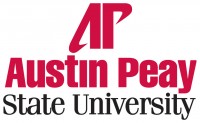 Clarksville, TN – Faculty and staff members at Austin Peay State University recently announced a number of publications, conferences and credentials as part of their professional and scholarly activities.
Charles Booth, staff writer in the Office of Public Relations and Marketing, recently had a short story, "Oakhurst Lane," published in the summer issue of The Southampton Review.
Dr. Beatrix Brockman, assistant professor of German, had an article, "'Bei Leibe Weib, im Geiste Mann (The Body of Woman, the Mind of Man),' Eva Strittmatter. The Unknown Bestseller-Poet from Behind the Iron Curtain," accepted for the 55th Annual Convention of the Midwest Modern Language Association, November 7th-10th in Milwaukee, WI.
She also had a second article, "Verwandlung der Realität von Exil und Heimatlosigkeit in Träume. Die Lyrische Prosa von Paula Ludwig (Morphing the Reality of Exile and Heimatlosigkeit into Dreams. The Prose Poems of Paula Ludwig)," accepted for the German Studies Association's 37th annual meeting, October 5th-8th in Denver, CO.
Naomi Rendina, adjunct history instructor, was accepted into the History of Medicine doctoral program at Case Western Reserve University.
Dr. Becky J. Starnes, associate professor in the APSU Department of Public Management and Criminal Justice, published a book, titled "Challenges in City Management–A Case Study Approach." The book, published by CRC Press, provides an analytical study of the complex environment in which Clarksville public administrators work.
Two case studies in the book were written by Drs. Victoria McCarthy and Robin Hulsart from the APSU Department of Professional Studies.