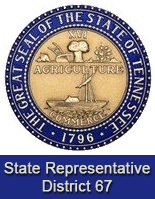 Nashville, TN – In the book, The Abilene Paradox, the author describes a family that makes a Sunday afternoon trip to Abilene when none of the members really want to go. They just go along because they assume everyone else wants to make the trip.
That describes exactly the paradox of the statewide virtual school juggernaut created by some in the Tennessee General Assembly in 2011. I say "some" because I did not support the measure. Those that voted for the bill probably assumed everyone or someone wanted to make the trip to trying what is now a failed experiment in creating a statewide virtual school.
The newest school performance scores are out and yep, here we go again. The TN Virtual Academy has failed its students miserably for the second year in a row. They received a "1" on the TVAAS system, the lowest possible score.
Instead of working to improve the quality of education at the Tennessee Virtual Academy, K-12, Inc. tried to quietly reach a deal with another county school system to create the "Tennessee Cyber Academy." This would have been virtually identical to the Virtual Academy, but would have given K12, Inc. another opportunity to fail students while raking in Tennessee tax dollars. Their proposal hasn't been approved, but the fact that they had the audacity to even try just shows that profits are a priority over outcomes.
The Tennessee General Assembly passed a law last session placing enrollment limits on state-wide virtual schools' enrollment when they fail to meet expectations. But the bill required them to fail three years in a row. That clearly fails to meet my expectations and probably those of every other parent in our state.
We need action now. The Commissioner of the Tennessee Department of Education should step up now and say, "Yea, we need to intervene and take serious action against this company for taking our money and giving us nothing in return." If the department can withhold $3 million from a local school district for failing to approve a charter school application, then they should get out front of this parade and call on K12, Inc. to clean up their act.
Even if the Department does act, the General Assembly should enact new, stricter controls on these lab experiments when we return in January. Let's give them one year to get going and meet expectations and if they fail, we step in. One failing year is bad enough but three years is an eternity in a child's life.
The taxpayers of this state deserve value for their investments. The students of our public education system deserve a school that gives them a great education. In fact the Tennessee Constitution guarantees it in Article 11 Section 12 when it memorializes the "maintenance, support, and standards of eligibility of free public schools.
Tennessee's promise to its citizens is a great education system. This for-profit virtual school fails, in every way, to keep that promise.
If you have questions about any item above or other issues of concern, please call me at 615.741.2043, or email me at