Memphis, TN – Senior Xiamar Richards earned a top-20 finish, leading Austin Peay State University women's cross country team to a fifth-place finish in the season-opening Brooks Memphis Twilight Classic, hosted by Christian Brothers at the Mike Rose Complex, Saturday.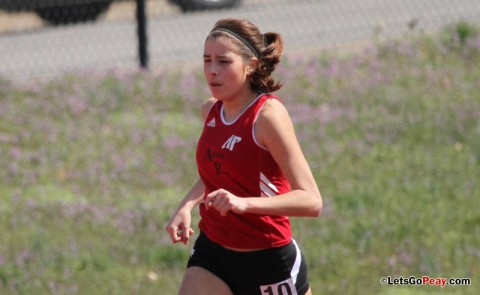 The Lady Govs netted 149 points as a team, finishing ahead of fellow Ohio Valley Conference foe Morehead State (sixth, 160), Memphis (186) and Mississippi Valley State (226). Mississippi State took the team title, finishing with 44 points and five of the top 14 runners.
"Overall, we ran a really strong race," said head coach Doug Molnar. "We're in better shape than we were a year ago, as evidenced by our times and placements. We had great effort tonight."
Richards was 18th out of 157 runners in the women's five-kilometer event, pacing the Lady Gov pack by more than 30 seconds. She's now finished as the top Lady Gov finisher in her last nine events, dating back to the 2011 season.
A trio of seniors – Kendra Kirksey (19:22.24), Kim Dominguez (19:32.98) and Chantelle Grey (19:38.21) – backed up Richard's strong performance with good runs of their own. Dominguez proved herself ready to take on a big role for the Lady Govs after transferring from Western Kentucky.
Freshman Molly Jordan rounded out the Lady Govs scoring five, finishing 52nd with a 20:21.15 mark. Freshman Jessica Gray (20:55.39, 72nd), sophomore Alexis Eldridge (21:02.98, 81st) and freshman Unjala Lester (22:22.72, 108th) rounded out the runners for the Lady Govs.
The Lady Govs will be back on the course next week at Chattanooga's PowerAde Invitational, hosted at Moccasin Bend. Starting time is scheduled for 5:45pm (CT).