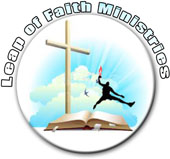 Clarksville, TN – Good things can be perverted and therefore it comes between us and God, making true praise impossible. It may be different in each person's life, but it can be identified by asking a few questions. What do you think you have to have in order to be happy and live successfully?
Most Christians answer quickly, "Jesus Christ, of course." But is Jesus really all you need? You may say "Yes", but are you acting as if deep down you believe you need Jesus plus something?
What about the people you love? Do you ever worry about losing them? What about your job? Are you concerned about having enough money to pay the bills? What about your health, your strength, or your talents? Would losing them upset you?
We often are not aware that we rely on something other than God until that something is taken from us. Right now our country is going through perilous economic times. Even the most experienced observers dare not speak with certainty about what lies ahead. I believe God is bringing this upon us to give us the opportunity to depend on Him for our financial security. How else would we learn?
Are the times troubling you? Are you concerned about the value of your property? Your families' future? If you are, it indicates that you need money to be secure more than you need God. God may not make you rich, but you never have to worry about money as long as you realize that every penny comes from God and belongs to Him. Use it as He directs, and your needs will always be met, regardless of the state of the world economy. Paul wrote "…I have learned the secret of facing either plenty or poverty. I am ready for anything through the strength of Christ who lives within me." (Philippians 4:12,13 AMP)
Paul's secret was that he had discovered from where his strength came, not from money, family, friends, or even his own efforts, but from Christ. He is our strength. Our own strength no matter how strong we are is never enough. It will never be right, and when we learn that we can never be right, never be strong enough, no matter how hard we try, we finally understand that we have to depend on Jesus to do it for us. That glorious discovery sets us free at last from our own self efforts and we are free to receive all that God wants to give us.
The stronger and more capable we are, the harder it can be to see our need for God. He may have to bring about circumstances in our lives to destroy our illusion of self-sufficiency. David understood this in his prayer saying "Make me hear joy and gladness, that the bones You have broken may rejoice." (Psalm 51:8 NKJV) When God breaks our bones, it is because He wants us to discover joy and gladness we find when we rely on His strength.
Shifting from our own strength to God's doesn't come easy to any of us. We may rely on Him in one area, but not in another or we trust Him more in some things than others. Turning ourselves over to Him completely is a lifetime process. We think we have done it, then out pops that old ego still trying to run the show. How do we get to the point where God is all our strength? As long as we use our own strength, God can't use His through us. Only when we surrender our strength to Him will we discover what David meant when he said, "Blessed is the man whose strength is in You…" (Psalm 84:5 NKJV)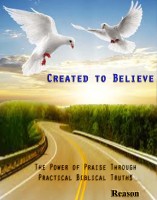 Our own strength is only a false illusion; still we cling to it and hate to give it up. If we want God to be our strength, we must be able to say to Him, "I surrender to You. From now on I want you to be my only strength."
If you say that and then find yourself getting more and more tired, praise God; He is letting you wear out your own strength, and when it is all gone, you will be where you ought to be dependent on God for everything.
At last you can say with David, "The Lord is my strength and my shield, my heart trusted in Him,, and I am helped; therefore my heart greatly rejoices, and with my song I will praise Him." (Psalm 28:7 NKJV)
Excerpt from Created To Believe: The Power of Praise Through Practical Biblical Truths written by Richard "Reason" Garrett
Copyright © 2011 Liberated Publishing Inc