Written by Sgt. Duncan Brennan
101st Combat Aviation Brigade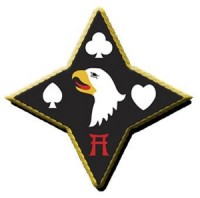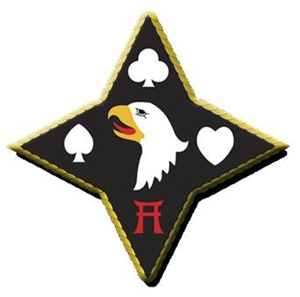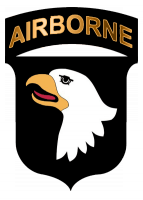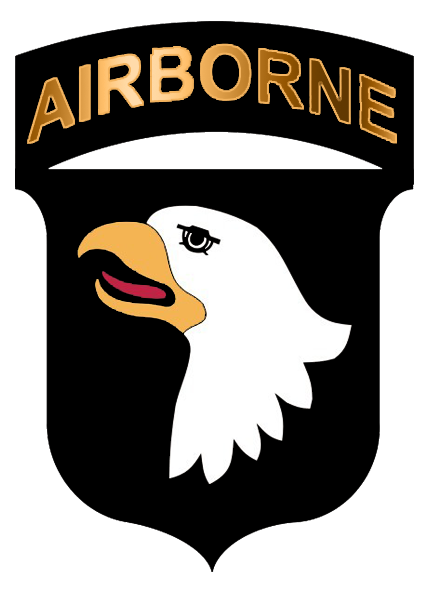 Fort Campbell, KY – Soldiers from B Company, 96th Aviation Support Battalion, 101st Airborne Division (Air Assault), work to refurbish an AH-1F Cobra at Fort Campbell, KY.
The soldiers, OH-58D Kiowa Warrior helicopter mechanics and OH-58D armament-electrician-and-avionics technician specialists, began the work of cleaning, repainting and reassembling the helicopter that is to go on display in front of the Don F. Pratt Museum at Fort Campbell. This helicopter will join many others on display across from the museum.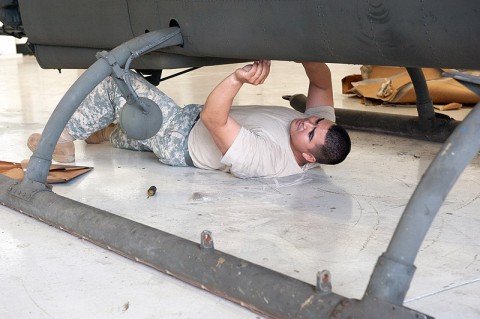 For Spc. Zachery Wisener, B Company, 96th ASB, OH-58D armament technician working on this project was not enough. He started searching through facebook and came across some information on the airframe that they were working on.
"This aircraft was built in 1968 to serve on the front lines of Vietnam," said Wisener. "When the helicopter came back from Vietnam is unclear. The cobra went back into service with the active-duty Army at E Troop, 1st Squadron, 7th Cavalry Regiment at Fort Hood, Texas, in the late 80s and early 90s. In 1997, this bird got handed over to the Texas National Guard's 1st Battalion, 121st Aviation Regiment based in Austin."
The National Guard unit was the last group to use this helicopter. In 2001, the Army stopped using the Cobra platform as it transitioned to the AH-64 Apache.
"The end of 2001 was the cutoff to stop all cobra activity," said Wiesner. "In 2007 Fort Campbell purchased this helicopter and that's when it came to the Pratt Museum."
Restoring the cobra was a time intensive project.
"We started this project the first week in August," said Sgt. Steven Gould, B Company, 96th ASB, OH-58D maintenance section sergeant."Currently we have about 88 hours of work into it, so far. We are expecting it to take about 120 hours to complete."
Restoring the aircraft took a lot of different tasks to bring it to completion.
"The aircraft came to us missing a lot of pieces," said Gould. "It came to us missing the rotor mast, main-rotor head, it was missing the weapons pylons and it only had one tail rotor. We also had to reinstall the turret and the 20mm gun."
Even though the project took a lot of hard work, the Soldiers knew that this was an opportunity that does not happen very often in the Army.
"It's like going back in time," said Spc. Joshua Weaver, B Company, 96th ASB, OH-58D Kiowa Warrior mechanic. "No many in the Army can say that they've worked on a cobra helicopter within the last ten years."
Working on a helicopter that has been out of the Army's inventory for over a decade presents some challenges for the soldiers. They embraced and overcame the difficulties restoring an old war bird presented them.
"I can't go to the book," said Weaver. "There is a book I can refer to, but I can't look at it and say 'yeah, I know exactly how to do that.' I've never put a turret on. That was a little bit of a challenge putting it on because of the narrow nose. We called some of the biggest guys in the company to bench press it into place so we can install the bolts on the turret."
With all of the challenges and hard work that was put in to restoring this helicopter, there are some rewards. The crew takes a lot of pride in having their handiwork on display at the division museum.
"I'm really proud of this," said Weaver. "There's a lot of joy in being able to drive by it every day and say 'yeah, I worked on that with some of my friends.' I'm also really happy that I got to make new friends while I worked on this helicopter."
Photo Gallery