Chattanooga, TN – The return to FCS competition was a rough one for Austin Peay State University's football team, which allowed Chattanooga to gain 270 yards on the ground on the way to a 42-10 loss to the Mocs at Finley Stadium, Saturday.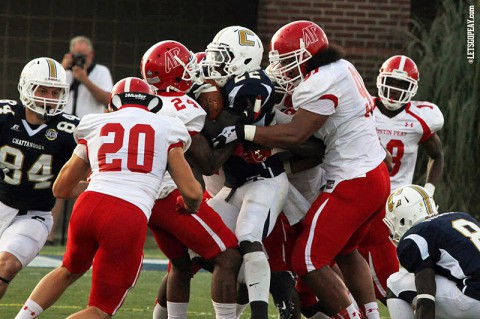 Austin Peay (0-3) couldn't slow a high-octane Mocs offense that came into the game averaging 271.5 yards on the ground. Chattanooga (2-1) picked up 270 yards on 44 carries against Austin Peay, averaging 6.1 yards per effort. The Govs, meanwhile, were limited to just 210 yards total offense.
After Chattanooga carved up the Govs defense with two quick touchdowns, Austin Peay embarked on a 12-play, 79-yard drive that chewed up much of the first quarter's remainder. Senior Tim Phillips carried five times for 34 yards on the drive, including an eight-yard touchdown run that was the Govs first touchdown on the 2013 season. It broke a 156-minute streak without a touchdown for the Govs.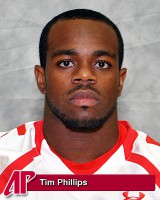 Chattanooga countered with a seven-play, 60-yard scoring drive of its own punctuated by a fourth-and-one conversion on the second quarter's first play. A 24-yard end-around by Tommy Hudson and an offsides penalty on the Govs put the Mocs inside the 10-yard line, where Jacob Huesman completed the drive with an eight-yard touchdown toss to Terrell Robinson.
The Mocs would tack on a one-yard touchdown run by Keon Williams to make the score 28-7 with 3:12 remaining in the half. The Govs would give Chattanooga the ball back at midfield with two minutes remaining, and the Mocs would drive it into the redzone before senior Leron Eaddy picked off a Huesman pass. However, the success would be short-lived when junior Andrew Spivey's pass attempt on the very next play was deflected and returned 20 yards for a touchdown by Gunner Miller.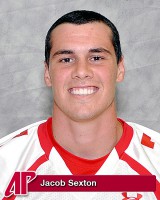 Austin Peay went three-and-out and allowed a Chattanooga touchdown to open the second half, prompting a quarterback switch. Sophomore Jacob Sexton led the Govs on a 15-play, 62-yard drive that culminated in a 26-yard field goal from junior Walter Spears to end the scoring efforts for both squads on the evening.
Phillips finished the day with a team-high 78 yards on 18 carries, including his first touchdown in an Austin Peay uniform. Senior Darryl Clack was the Govs primary target in the passing game, catching three balls for 48 yards.
The Govs defense was challenged time and again Saturday, with cornerback Montez Carlton leading Austin Peay with eight tackles (five solo). Eaddy was one of four Govs, along with seniors Tyreon Clark, Enriques Perry and freshman A.J. Gray, with seven tackles. Freshman Montrieze Lillard found his way into the backfield several times against the Mocs, recording two tackles for loss.
The nomadic Governors continue their season-opening five-game road trip when they visit Mid-American Conference opponent Ohio, Saturday. Kickoff is scheduled for 1:00pm (CT).
Box Score
Austin Peay (0-3) vs. Chattanooga (2-1)
September 14th, 2013 • Chattanooga, TN • Stadium: Finley Stadium • Attendance: 9189
| | | | | | |
| --- | --- | --- | --- | --- | --- |
| Score by Quarters | 1 | 2 | 3 | 4 | Score |
| Austin Peay | 7 | 0 | 3 | 0 | 10 |
| Chattanooga | 14 | 21 | 7 | 0 | 42 |
SCORING SUMMARY
APSU -UTC

1st

12:05

UTC

Marquis Green 9 yd run (Nick Pollard kick)

8 plays, 76 yards, TOP 2:55

0 – 7

06:34

UTC

Keon Williams 9 yd run (Nick Pollard kick)

8 plays, 61 yards, TOP 3:46

0 – 14

01:41

APSU

PHILLIPS, Tim 8 yd run (SPEARS, Walter kick)

12 plays, 79 yards, TOP 4:49

7 – 14

2nd

13:30

UTC

T. Robinson 8 yd pass from Jacob Huesman (Nick Pollard kick)

7 plays, 60 yards, TOP 2:58

7 – 21

03:12

UTC

Keon Williams 1 yd run (Nick Pollard kick)

7 plays, 38 yards, TOP 2:32

7 – 28

00:24

UTC

Gunner Miller 20 yd interception return (Nick Pollard kick)

7 – 35

3rd

11:00

UTC

Keon Williams 25 yd run (Nick Pollard kick)

5 plays, 51 yards, TOP 2:18

7 – 42

03:15

APSU

SPEARS, Walter 26 yd field goal

15 plays, 62 yards, TOP 7:37

10 – 42
Kickoff time: 6:00 pm • End of Game: 8:48 • Total elapsed time: 2:48
Referee: T. Graham • Umpire: J. Golob • Linesman: R. Broome • Line judge: T. Forman • Back judge: J. Tricoli • Field judge: D. Bayag • Side judge: C. Rape • Alternate: J. Cooper •
Temperature: 80 • Wind: 7 E • Weather: Partly Cloudy
Team Statistics (Final)

| | | |
| --- | --- | --- |
| Team Totals | APSU | UTC |
| FIRST DOWNS | 16 | 23 |
| Rushing | 8 | 16 |
| Passing | 5 | 7 |
| Penalty | 3 | 0 |
| NET YARDS RUSHING | 116 | 270 |
| Rushing Attempts | 39 | 44 |
| Average Per Rush | 3.0 | 6.1 |
| Rushing Touchdowns | 1 | 4 |
| Yards Gained Rushing | 129 | 299 |
| Yards Lost Rushing | 13 | 29 |
| NET YARDS PASSING | 94 | 142 |
| Completions-Attempts-Int | 12-24-1 | 15-20-1 |
| Average Per Attempt | 3.9 | 7.1 |
| Average Per Completion | 7.8 | 9.5 |
| Passing Touchdowns | 0 | 1 |
| TOTAL OFFENSE YARDS | 210 | 412 |
| Total offense plays | 63 | 64 |
| Average Gain Per Play | 3.3 | 6.4 |
| Fumbles: Number-Lost | 0-0 | 1-0 |
| Penalties: Number-Yards | 4-17 | 5-49 |
| PUNTS-YARDS | 7-277 | 3-132 |
| Average Yards Per Punt | 39.6 | 44.0 |
| Net Yards Per Punt | 36.3 | 44.3 |
| Inside 20 | 1 | 1 |
| 50+ Yards | 0 | 0 |
| Touchbacks | 0 | 0 |
| Fair catch | 4 | 1 |
| KICKOFFS-YARDS | 3-174 | 7-444 |
| Average Yards Per Kickoff | 58.0 | 63.4 |
| Net Yards Per Kickoff | 32.7 | 41.0 |
| Touchbacks | 0 | 2 |
| Punt returns: Number-Yards-TD | 1–1-0 | 2-23-0 |
| Average Per Return | -1.0 | 11.5 |
| Kickoff returns: Number-Yds-TD | 5-107-0 | 3-76-0 |
| Average Per Return | 21.4 | 25.3 |
| Interceptions: Number-Yds-TD | 1-0-0 | 1-20-1 |
| Fumble Returns: Number-Yds-TD | 0-0-0 | 0-0-0 |
| Miscellaneous Yards | 0 | 0 |
| Possession Time | 30:25 | 29:16 |
| 1st Quarter | 6:38 | 8:22 |
| 2nd Quarter | 7:00 | 8:00 |
| 3rd Quarter | 9:42 | 5:18 |
| 4th Quarter | 7:05 | 7:36 |
| Third-Down Conversions | 4 of 15 | 6 of 11 |
| Fourth-Down Conversions | 2 of 2 | 1 of 2 |
| Red-Zone Scores-Chances | 2-2 | 4-5 |
| Touchdowns | 1-2 | 4-5 |
| Field goals | 1-2 | 0-5 |
| Sacks By: Number-Yards | 2-10 | 1-3 |
| PAT Kicks | 1-1 | 6-6 |
| Field Goals | 1-1 | 0-0 |