Clarksville, TN – On Wednesday, October 29th, 2013 at 07:45am, Police Officer L. Harris, from the Clarksville Police Department, responded to a crash at US-41 (Madison Street) and SR-76 (Martin Luther King Boulevard).
A 16 year old, driver of a blue '13 Nissan Versa, caused a minor traffic crash with a 47 year old woman, Kimberly K. Traylor, driver of a white '07 Chevrolet K15. Ms. Traylor got out of her vehicle and screamed and cussed at the 16 year old.
Ms. Traylor then got back into her vehicle, placed it into reverse, and rammed it into the 16 year olds vehicle. This placed the 16 year old in fear for her safety and caused significant damage.
The 16 year old was not hurt.
Ms. Traylor then drove away from the scene without leaving her name, vehicle information, and insurance information.
Aggravated Assault and Leaving the Scene of an Accident warrants were secured for Ms. Traylor.
Ms. Traylor was booked into the Montgomery County Jail Thursday afternoon.
Kimberly Traylor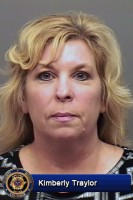 Name: Kimberly K. Traylor
DOB: 9/ 24/ 66
Gender: F
Race: W
Given Address: 4300 Old Clarksville Pike, Clarksville, TN
Arresting Officer: Claudia Silva
Charged With: Aggravated Assault, Leaving the Scene of an Accident, Property Damage
Booked Into: Montgomery County Jail
Bond: $6,000