Clarksville, TN – Austin Peay State University's bid for its first 2013 football victory came up short, Saturday afternoon, as Southeast Missouri State University held on for a 36-34 decision in Ohio Valley Conference football action at Governors Stadium.
This was the last football game played in Governors Stadium as it is currently configured.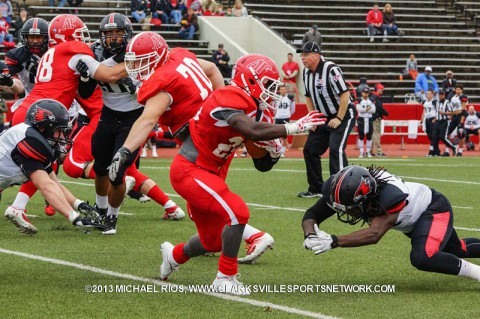 A ceremonial demolition took place after the game on the 67-year-old stadium's west side, with actual demolition beginning Wednesday.
Several former and current Governors took turns with sledge hammers outside Gate 1 of the stadium. The new four-level Governors Stadium west side, which will feature suites, locker rooms and offices, will be open for the 2014 season start.
But the Governors were unable to send out the venerable facility on a winning note as they fell to 0-11 on the season, 0-7 in the OVC while Southeast Missouri improved to 3-8, 2-5 in the OVC.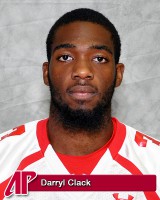 Trailing 36-34 with 3:23 left in the contest, APSU took over at its own 31 after a Ladarius Chatman punt. Twice during the drive the Governors narrowly converted fourth-down passes on second efforts after the respective catches from Darryl Clack and Rashaan Coleman.
But with no timeouts remaining and 33 seconds left the Governors threw a short pass to Coleman in the middle of the field—Coleman was tackled with time ticking away. Quarterback Andrew Spivey rushed to the line but was unable to find an open receiver, being tackled for a one-yard loss as time ran out.
The contest was without question the Governors best offensive performance, finishing with 441 yards total offense. With redshirt freshman quarterback Timarious Mitchell running the read option, they efficiently moved the ball down field, going 75 yards as Coleman took it in from 13 yards out.
But SEMO responded with a TD of its own before the Govs answered with another drive that ended in a 31-yard Chase Dunlap field goal.
SEMO quarterback Scott Lathrop answered with a 40-yard TD run and then the Redhawks took advantage of the game's only turnover—Cantrell Andrews' interception and 38-yard return—to go up 21-10 on a Ron Coleman run. That was the same score taken into halftime.
After holding the Redhawks on their first second-half drive, the Governors began their comeback. Spivey replaced Mitchell to start the second half and his 49-yard pass to Darryl Clack gave APSU first-and-goal at the Redhawks six. The Govs' Coleman then ran it in to cut the deficit to 21-17.
SEMO bounced back with a field goal before Spivey and Clack again hooked up on a long pass—this one 34 yards—to set up a Rashaan Coleman 20-yard TD run to tie the game at 24. Spivey finished 8-of-11 passing for 122 yards in his half while Clack had a career-high 90 yards receiving on three catches.
DeMichael Jackson then took over for SEMO. The Redhawks drove 85 yards on nine plays, with Jackson, who finished with 140 yard rushing—chewing up 60 of those yards before Ron Coleman punched it in from five yards out. The Redhawks missed the extra point but still led, 30-24.
But that lead was short lived—very short lived. On the ensuing kickoff, senior EnRiques Perry, returning kicks for the first time since he was a freshman, caught the ball on the one, ran straight up field, cut to his right and outran the SEMO defenders for a 99-yard score. That kickoff tied Terrence Holt's 2009 return against Murray State as the single-season longest. APSU now had the lead 31-30.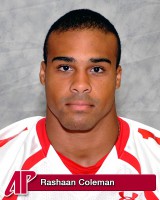 Again SEMO answered in the seesaw battle, going 62 yards in seven plays, with Ron Coleman slamming in from one-yard out for a 36-31 advantage.
On the Governors next drive both Rashaan Coleman (109 yards), who was moved to running back this week after playing wide receiver all season, and Omar Williams (108 yards) each went over the 100-yard rushing mark. But the drive stalled at the SEMO 16, with Govs settling for a Dunlap 33-yard field goal.
The defense gave the Govs one last opportunity, forcing to SEMO to punt with less than 3:40 left. But the Governors offense was unable to take advantage of the opportunity, allowing SEMO to escape the decision.
Austin Peay's next game is Saturday, November 23rd against the Tennessee Tech Golden Eagles in Cookeville, TN. Kickoff is at 1:30pm.
Photo Gallery
Box Score
Southeast Missouri (3-8,2-5) vs. Austin Peay (0-11,0-7)
November 16th, 2013 | Clarksville, TN | Governors Stadium | Attendance: 4267
| | | | | | |
| --- | --- | --- | --- | --- | --- |
| Score by Quarters | 1 | 2 | 3 | 4 | Score |
| Southeast Missouri Redhawks | 7 | 14 | 3 | 12 | 36 |
| Austin Peay Governors | 7 | 3 | 14 | 10 | 34 |
SCORING SUMMARY
SEMO -APSU

1st

12:20

APSU

COLEMAN, Rashaan 13 yd run (DUNLAP, Chase kick)

6 plays, 75 yards, TOP 2:40

0 – 7

07:56

SEMO

COLEMAN, Ron 5 yd run (KNIGHT, Alex kick)

11 plays, 44 yards, TOP 4:18

7 – 7

2nd

14:50

APSU

DUNLAP, Chase 31 yd field goal

16 plays, 61 yards, TOP 8:06

7 – 10

12:34

SEMO

LATHROP, Scott 40 yd run (KNIGHT, Alex kick)

6 plays, 75 yards, TOP 2:16

14 – 10

10:29

SEMO

COLEMAN, Ron 1 yd run (KNIGHT, Alex kick)

5 plays, 22 yards, TOP 1:48

21 – 10

3rd

09:56

APSU

COLEMAN, Rashaan 6 yd run (DUNLAP, Chase kick)

7 plays, 71 yards, TOP 3:55

21 – 17

05:53

SEMO

McCRUM, Ryan 27 yd field goal

9 plays, 53 yards, TOP 3:57

24 – 17

03:22

APSU

COLEMAN, Rashaan 20 yd run (DUNLAP, Chase kick)

5 plays, 68 yards, TOP 2:31

24 – 24

4th

14:37

SEMO

COLEMAN, Ron 5 yd run (KNIGHT, Alex kick failed)

9 plays, 85 yards, TOP 3:40

30 – 24

14:22

APSU

PERRY, EnRiques 99 yd kickoff return (DUNLAP, Chase kick)

30 – 31

10:41

SEMO

COLEMAN, Ron 1 yd run (LATHROP, Scott pass failed)

7 plays, 62 yards, TOP 3:36

36 – 31

05:53

APSU

DUNLAP, Chase 33 yd field goal

9 plays, 61 yards, TOP 4:40

36 – 34
Kickoff time: 1:00 pm • End of Game: 4:01 • Total elapsed time: 3:01
Referee: Ken Stovall • Umpire: John Graham • Linesman: David Seewer • Line judge: Jeff Irwin • Back judge: W. Kirk Walker • Field judge: Randy Jackson • Side judge: Al Studstill •
Temperature: 63 • Wind: S15 G22 • Weather: Overcast
Final game at the current Governors Stadium.
Team Statistics
| | | |
| --- | --- | --- |
| Team Totals | SEMO | APSU |
| FIRST DOWNS | 20 | 24 |
| Rushing | 16 | 18 |
| Passing | 3 | 5 |
| Penalty | 1 | 1 |
| NET YARDS RUSHING | 315 | 314 |
| Rushing Attempts | 48 | 53 |
| Average Per Rush | 6.6 | 5.9 |
| Rushing Touchdowns | 5 | 3 |
| Yards Gained Rushing | 326 | 319 |
| Yards Lost Rushing | 11 | 5 |
| NET YARDS PASSING | 79 | 127 |
| Completions-Attempts-Int | 6-11-0 | 9-19-1 |
| Average Per Attempt | 7.2 | 6.7 |
| Average Per Completion | 13.2 | 14.1 |
| Passing Touchdowns | 0 | 0 |
| TOTAL OFFENSE YARDS | 394 | 441 |
| Total offense plays | 59 | 72 |
| Average Gain Per Play | 6.7 | 6.1 |
| Fumbles: Number-Lost | 1-0 | 0-0 |
| Penalties: Number-Yards | 4-40 | 5-71 |
| PUNTS-YARDS | 2-78 | 1-49 |
| Average Yards Per Punt | 39.0 | 49.0 |
| Net Yards Per Punt | 29.5 | 41.0 |
| Inside 20 | 0 | 0 |
| 50+ Yards | 0 | 0 |
| Touchbacks | 0 | 0 |
| Fair catch | 0 | 0 |
| KICKOFFS-YARDS | 7-360 | 7-362 |
| Average Yards Per Kickoff | 51.4 | 51.7 |
| Net Yards Per Kickoff | 29.0 | 34.7 |
| Touchbacks | 2 | 1 |
| Punt returns: Number-Yards-TD | 1-8-0 | 1-19-0 |
| Average Per Return | 8.0 | 19.0 |
| Kickoff returns: Number-Yds-TD | 5-94-0 | 3-107-1 |
| Average Per Return | 18.8 | 35.7 |
| Interceptions: Number-Yds-TD | 1-38-0 | 0-0-0 |
| Fumble Returns: Number-Yds-TD | 0-0-0 | 0-0-0 |
| Miscellaneous Yards | 0 | 0 |
| Possession Time | 26:22 | 33:38 |
| 1st Quarter | 4:24 | 10:36 |
| 2nd Quarter | 6:50 | 8:10 |
| 3rd Quarter | 8:34 | 6:26 |
| 4th Quarter | 6:34 | 8:26 |
| Third-Down Conversions | 3 of 9 | 9 of 15 |
| Fourth-Down Conversions | 2 of 2 | 2 of 2 |
| Red-Zone Scores-Chances | 5-5 | 5-5 |
| Touchdowns | 4-5 | 3-5 |
| Field goals | 1-5 | 2-5 |
| Sacks By: Number-Yards | 0-0 | 0-0 |
| PAT Kicks | 3-4 | 4-4 |
| Field Goals | 1-2 | 2-3 |