Clarksville, TN – This December, why not enjoy a night of holiday music with a couple hundred of your closest friends?
That's what will happen at 7:30pm on Friday, December 6th, when the Austin Peay State University Department of Music hosts "Christmas with David Steinquest and Friends: A Winter Wonderland" in the Mabry Concert Hall.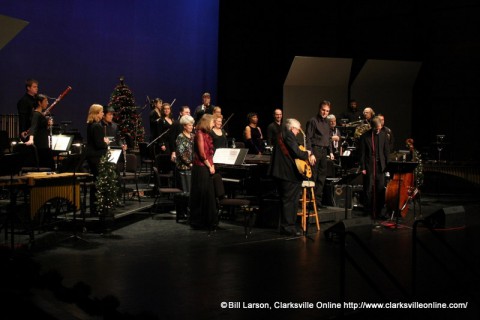 "The stage will have a rug, couches and chairs and lamps and a Christmas tree, so everyone feels like they're in someone's living room and there's this party going on, and then there starts to be music at the party," Steinquest, APSU professor of music, said. "It will be very casual."
The concert will feature a band made up of Steinquest's favorite musicians – guitarist Paul Binkley, bass player Tony Nagy, drummer Matt DeVore and vocalists Allison Campbell and David Alford. Binkley formerly played with the country music group Alabama, and Alford can be seen every week on ABC's "Nashville" as the character Bucky Dawes.  Vocalist Erin Binkley will join the group this year, bringing a little theatrical fun to the evening.
"She is going to do 'A Christmas Pageant,' a one-woman show that's a little story she tells," Steinquest said. "It is so funny. She's perfect for it."
The evening's holiday program will have a sort of pop/jazzy sound, featuring works by some of Steinquest's favorite artists, including James Taylor's arrangement of "Winter Wonderland" and Family Force 5's arrangement of "Do you Hear What I Hear."
The concert also will feature holiday works by new artists, such as "Tracks in the Snow," by The Civil Wars.
"That is the most beautiful tune," Steinquest said. "People are going to cry."
And it wouldn't be a Steinquest concert without some strange, percussion elements.
"There are boom whackers on this Christmas concert," he said. "That's all I'm going to say about it. But it's going to be really, really fun, and you're going to dig it."
Admission to the concert is either two cans of food, donated to Loaves and Fishes, or $3.00. The event traditionally sells out, so contact the APSU Department of Music at 931.221.7818 for ticket information.