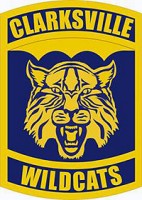 Nashville, TN – Clarksville High School put together an 11-2 run, early in the fourth quarter December 26th at the Willie Brown Memorial Tournament versus tournament host Father Ryan High School, to rally past the Fighting Irish for a 52-50 victory, to extend its win streak to five games.
The Wildcats (5-7) trailed Father Ryan 39-36, with 7:21 left in the game, following one of two free throws by the Irish's Griffin Bumpus.
But Clarksville High would score eight straight points on two baskets each from J.J. Jones and Cameron Stiff – all coming off assists from Jeff Webb, who drove into the paint and dumped the ball off to the open man when they stepped up to try to take a charge.
"We had told them to look for that, because they really come over to take the charges," CHS coach Ted Young said. "We told them before the game that they would just get up under you and take charges all night, so you have to go into the paint with a plan and not go in there out of control.
"When they went to help to told them the man who was left open if he popped into the paint he would get a layup and it worked."
The Wildcats would lead by as many as five points, 48-43, with 2:57 left in the game, but missed free throws – which haunted Clarksville High all night – kept the Irish in the game, with CHS missing three of four attempts in the last three minutes.
But the Wildcats defense never allowed Father Ryan (2-8) to tie or take the lead, with Tyriek Cheatham coming up with a huge rebound with 1.1 seconds left and Webb with an interception of a desperation pass with 0.2 seconds left to seal away the victory.
"It's making those big plays when it's time to make them," Young said. "Losing can become a habit and the little things that causing you to lose if you continue to do them incorrectly can become a habit.
"Winning on the other hand simply becomes a habit when you learn how to do the things that requires execution down the stretch of the ball game when it really counts. We're starting to see that in competitive situations against very good teams."
In the first half, Clarksville High got out to an early 9-6 lead by hitting three, three-point field goals in the first 4:07.
But the Wildcats would go cold from the floor, not scoring for a span of 6:54, while Father Ryan build its biggest lead of the game at eight points, 17-9, with 6:02 left in the first half.
Clarksville High would cut deficit to one twice before intermission, but when into halftime down five to the Irish, 24-19.
The third quarter would see Clarksville High come out and outscore the Irish 13-5 to open the second half and take its first lead since early in the first half, 32-29, on a three-point field goal from Webb with 2:52 left in the period.
Webb would finish with 17 points leading all scorers.
But they would only score two more points the rest of the quarter, while Father Ryan scored nine in the last two and a half minutes to take a 38-34 lead into the final period.
The Wildcats will advance to face LaVergne High School, who defeated Hillsboro High School, 49-46, in their tournament-opening game, December 27th at 7:45pm at Father Ryan.
Box Score
Clarksville High 52, Father Ryan 50
| | | | | | |
| --- | --- | --- | --- | --- | --- |
| | 1 | 2 | 3 | 4 | Final |
| Clarksville High Wildcats | 9 | 10 | 15 | 18 | 52 |
| Father Ryan Fighting Irish | 11 | 13 | 14 | 12 | 21 |
Clarksville High: Jeff Webb 17, J.J. Jones 9, Tyriek Cheatham 4, Teal Young 6, Avery Bates 4, Tariq Silver 6, Cameron Stiff 6. Team totals 21 2-12 52.
Father Ryan: Luke Dixon 14, Alex Ariola 4, Slate Rider 14, Joseph Bauer 12, Cameron Towns 3, Griffin Bumpus 3. Team totals 20 5-8 50.
3-point field goals: Clarksville High 8 (Webb 4, Young 2, Jones 1, Silver 1), Father Ryan 5 (Bauer 4, Towns 1).
Records: Clarksville High 5-7, Father Ryan 2-8.