Clarksville, TN – The weekly Clarksville Parks and Recreation Department Recreation Report provides Clarksvillians with a glimpse at the activities and events that are available from the Parks and Recreation Department for them to enjoy together as a family.
This weeks highlights include: Clarksville Parks and Recreation Survey, 2014 Eggstravaganza, Church Youth Softball League & Adult Women's League, Youth League Deadlines and Spring Break.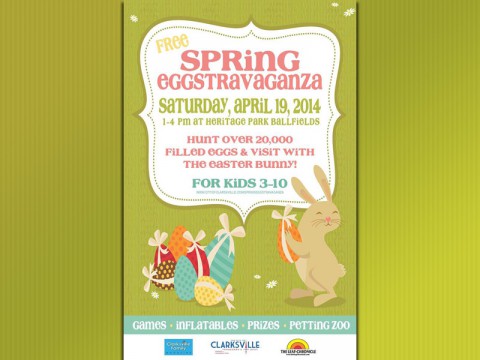 Survey Seeks Feedback on Clarksville Parks and Recreation
The City of Clarksville Parks and Recreation Department is surveying the public to determine how we can better improve our services to you, your family and all City of Clarksville residents. A link to the survey can be found on the City's Parks and Recreation website, www.cityofclarksville.com/parksrec. It takes just a few minutes to answer the questions, and participants are anonymous.
Participants, interested in volunteering or assisting with programs and events with our Department, may provide their contact information.  From those participants, we'll draw one lucky winner to receive a Parks and Recreation lawn chair!
2014 Eggstravaganza
Join us Saturday, April 19th from 1:00pm-4:00pm at the Heritage Park Baseball Fields for games, face painting, inflatables, and the hunting of over 20,000 eggs! The Easter Bunny will even be there for kids to meet, so parents don't forget your cameras!
The egg hunts are open to children from 3-10, and will be split up by age group. Visit www.cityofclarksville.com/springeggstravaganza for egg hunt times.
2nd Session of Walk with Me Tennessee kicks off March 11th
Walk your way to health and prizes! The second session of Walk with Me Tennessee will begin March 11th and end May 2nd. This program challenges Clarksvillians to walk across the state using a series of challenges featuring trails in Clarksville.
Participating in this program is easy, just create a free account on www.healthwalkers.com and you are set to begin completing the challenges. The first participant to report completion of each challenge during the designated period will receive a Walk with Me Tennessee prize!
For each challenge completed, the participants name will be entered into a drawing for a grand prize at the end of the session.
Church Youth Softball League & Adult Women's League
Sign up for Church Leagues today! Church Youth League registration ends on May 5th. Games for the Church Youth League will begin on June 10th, and games will be played on Tuesday evenings.
To ensure that your team gets a spot in the Women's Softball League, make sure to have your team deposit of $100.00 in by Monday, May 5th. Final fees will be due May 16th, and the price depends on the number of teams in the league. Games will be played on Thursday evenings beginning June 12th.
All games will be played at the Heritage Park Softball Complex.
For more information on any of the Clarksville Parks and Recreation Leagues, please contact us at 931.645.7476 or visit recpro.cityofclarksville.com
Youth League Deadlines
Youth league registration for children ages 3-14, is coming to an end. Hurry and register your child for Blastball!, T-Ball, baseball, or softball by March 28! The cost to play is $40.00, which includes a team shirt, hat, and a medal.
Spring Break
Spring break is just around the corner, and the Clarksville Parks and& Recreation Facilities' will adjust their hours of operation to accommodate students in Clarksville-Montgomery County School System.
The Kleeman, Crow, and Burt-Cobb Centers will be open from 10:00am-7:00pm beginning March 24th-28th. The Indoor Aquatic Center will be open from 6:30am-8:00pm beginning March 24th-28th.
There will also be a Spring Break Tumbling Class that will be held at the American Twisters Tumbling, on March 24th-27th at 10:00am-2:00pm. This class will be open to children 6-16, and the cost will be $40.00 per person.