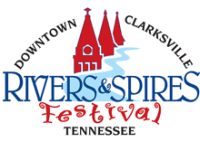 Clarksville, TN – For over a decade the Rivers and Spires Festival has been bringing free family fun to Historic Downtown Clarksville Tennessee. And over the years, the Festival has been no stranger to changing up the attractions to make sure everyone is entertained.
This year, for the first time, the Festival is pleased to offer a zone geared especially for the sports enthusiast.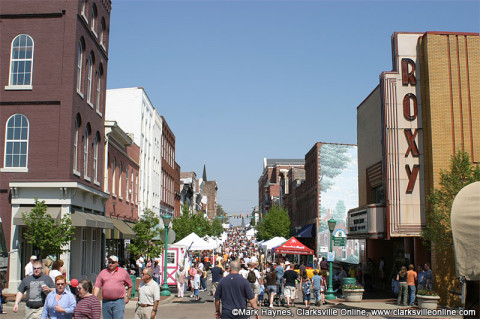 From novice to semi-pro, this zone is for you! Come on out to the Festival on Friday April 25th, 5:00pm-10:00pm and Saturday, April 26th, 10:00am to 8:00pm, to try your hand at everything from games of agility to games of sports knowledge.
There's no reason to be shy about working up a sweat and showing off your mad skills at this year's Festival!
Situated in the parking lot at the corner of Third and Main Street, this fully interactive area will be busting at the seams with Austin Peay themed sports activities including football, baseball and golf. There will also be sports themed inflatables to run, jump and bounce on.
While there, this will be an excellent opportunity to check out the newly redesigned Governor mascot and see some of the awesome apparel and items that the ASPU athletics department has available. Stop by to test your skills or show off for your friends, all level of sports enthusiast are encouraged to be a part of the action APSU is there to supply.
For those who like working more on their ch'i, a free yoga session from Raja Hot Yoga will be available on Friday night at 6:00pm. It doesn't matter if this is your first time or your hundredth, the staff from Raja will make this a relaxing experience. What better way to wind down your week and get ready for the Festival fun ahead on Saturday, then to strike a pose and get your Zen on?
Not everyone shows his or her athletic skills on a mat or on the field. If you are that person full of random sports knowledge and bring a tough mental game, then the sports trivia night, hosted by The Gilroy, is the place you need to be on Saturday at 6:00pm. Come out, test your sports knowledge and win prizes! Teams do not have to pre-register, just bring your team to the Sports Zone the day of the event to register.
The Sports Zone will bring the health and sports mentality full circle with the Publix sponsored Cooking Stage with healthy cooking shows hosted by April McKinney. The shows will be presented at four times on Saturday, 11:00am, 1:00pm, 3:00pm and 5:00pm. All the foods prepared will be touting health and wellness benefits and recipes will be available soon at www.riversandspires.com .
And, what good is a cooking show if you can't sample some good eats from the live demonstrations? Each show time will give Sports Zone attendees the chance to try the tasty treats and see first-hand how good healthy eating can be!
Local area businesses will also be on hand to provide interactive demonstrations and mini clinics. From boxing, gymnastics, boating and more, Rivers and Spires has a wide variety of displays and athletic entertainment for all ages. If your team or business are interested in participating, contact Jessica at today. Space is filling up quickly!
So, with all this available in just one zone, you can only imagine all other fun and games available for free at the rest of the Rivers and Spires Festival! Come out to Historic Downtown Clarksville April 24th-26th to be a part of this award-winning festival full of concerts, activities, food and shopping.
About the Rivers and Spires Festival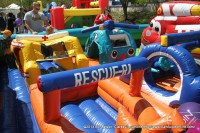 The 12th annual Rivers and Spires Festival will be held April 24th-26th, 2014 in Downtown Clarksville. This event has five stages of entertainment with over 100 entertainers performing all three days. From children's activities, arts & crafts, car shows, military exhibits, shopping and so much more this is truly an event for the whole family. Admission to the Festival is free including all games, activities and concerts.
For more information about Rivers and Spires contact Jessica Goldberg at or visit us at www.riversandspires.com. Become a fan of us on Facebook or follow us on Twitter @RIVERSandSPIRES.