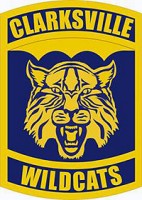 Clarksville, TN – Clarksville High School's baseball team looked like it had everything under control, April 7th, as it went into the top of the seventh inning up three runs and its number-one pitcher on the mound, but the Wildcats had to hold off a Rossview High School rally to come away with a 3-2 District 10-AAA victory.
The Wildcats (15-2, 7-0 District 10-AAA) starting pitcher Donny Everett (5-0) had kept the Hawks off the scoreboard over the first six inning, giving up just three hits and striking out 10 batters up to that point.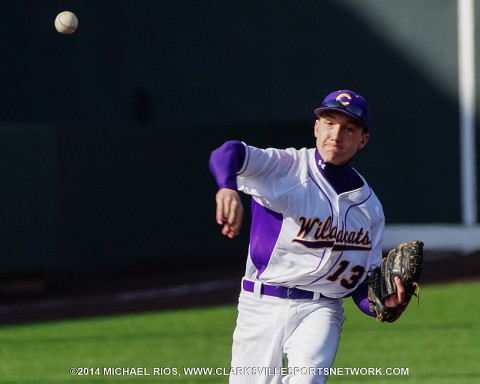 But Everett walked number-nine hitter Collin Baber and hit Dillon Johnson to open the seventh inning to allow Rossview (9-8, 5-2 District 10-AAA) to bring the possible tying run to the plate, with no outs.
Everett would strike out Lawson Moquin for the first out of the inning, but saw Truman Brown reach on a fielder's choice to load the bases when CHS shortstop Luke Chilcutt made a throwing error.
That brought up clean-up hitter Blake Kiely, who would come through with a single to drive in Johnson to break up Everett's shutout and still have the bases loaded.
A strikeout by Kevin Kane left CHS needing one more out to come away with the win, but Everett hit Austin Davis with a pitch forcing in Johnson to make it 3-2.
That brought up Bradley Wilson, who was a strikeout victim in his first three plate appearances against Everett, who hit a groundball to Chilcutt at short.
Chilcutt would bobble the ball and it looked like all runners would be safe and the tying run scoring, but instead of running through the base at first Wilson took a wide turn heading to first and that allow Chilcutt time to recover and make the throw to first to end the game.
"We didn't handle a few situations defensively the way we wanted too," Clarksville High coach Brian Hetland said. "But it was a brutal night to play defense with the ground being so wet.
"I would have never played the game if I knew it was going to be this wet, but radar showed it to be clear and we called the national weather service and they said by 6:30 it would stop raining and be pretty good. Unfortunately, we had to play in some pretty sloppy conditions."
Brett Wilson took the loss for Rossview, despite giving up only five hits and one earned run, as the Hawks left 11 runners on base.
"The first inning a couple of plays didn't go out way with Clarksville High doing a great job of hitting behind runners," Rossview coach Jason Rice said. "We also left to made runners on base, had some base-running mistakes and didn't take
care of our offense like we should have
"Still, I do think our guys competed and did better than a lot of people have against them."
Clarksville High had opened the game by going up 1-0 in the bottom of the first inning, with Landon Mosteller reaching on an error Brown at third base, followed by back-to-back hit-and-run singles by Nolen Milton and Everett – with Everett's hit scoring Mosteller.
The Wildcats would make it 2-0 in the second inning, as Gabe Bowling reached on a hit by pitch and after moving to second base on a ground out by Teal Young, scored on a single by Chilcutt.
The Wildcats would tack on what turned out to be the winning run in the bottom of the sixth inning, with Brady Cook opening the frame with a double to right field and move to third on a sacrifice by Mosteller – who reached on a throwing error on the play.
Milton would then hit a flyball into medium center field, with Cook faking a dash to the plate.
But Baber's throw from center field to home plate got away from Kiely, with Cook coming in to make it 3-0.
Both teams return to action April 8th, as they play the second of their two-game series against each other at the Rossview High School baseball field – starting at 6:30pm.