Clarksville, TN – On Monday, April 14th, 2014 at 5:47pm, the Clarksville Police Department responded to the Rural King parking lot on Fort Campbell Boulevard in reference to an injured person. Chad Barry Bennett, a 29 year old Clarksville resident, said he was struck in the head by another individual and his car was stolen.
A silver 380 pistol was found in the parking lot of Rural King.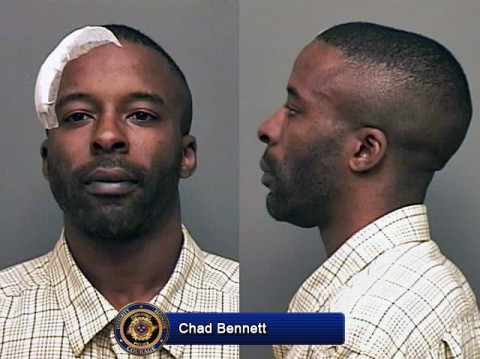 Soon after, at 5:56pm, the CPD responded to a traffic collision at 478 Lafayette Road and found the deceased person behind the wheel of Bennett's stolen car. It was discovered the subject had sustained two gunshot wounds to his torso.
The deceased person has been identified as 31 year old Mark Anthony Walraven of Clarksville. Mr. Walraven  was involved a physical confrontation with Chad Barry Bennett while engaged in a narcotics transaction.
During the altercation, Mr. Walraven received two gunshot wounds. Mr. Walraven managed to take possession of a 2014 silver Mazda 5 SUV from Mr. Bennett.
Mr. Walraven drove the vehicle to the area of 478 Lafayette Road where he lost control and crashed into a telephone pole.  Mr. Walraven succumbed to his injuries at the scene.
As a result of the investigation, 29 year old, Chad Barry Bennett of Clarksville has been charged with Criminal Homicide. This incident took place in a high traffic location and is believed to have been witnessed by several citizens.
The Clarksville Police Department is urging anyone who may have witnessed the crime to call Det. Mike Ulrey with the Clarksville Police Department Homicide Unit at 931.648.0656 Ext. 5483
Chad Bennett
Name: Chad Barry Bennett
Date of Birth: 1/ 5/ 85
Gender: M
Race: B
Given Address: 103 Tandy Drive Apt. A, Clarksville, TN
Arresting Officer: Jesse Zumbro
Charged With: Homicide – Criminal, 1st, 2nd, Etc. Murder
Booked Into: Montgomery County Jail
Bond: $0.00