APSU Sports Information

Edwardsville, IL – After picking up a host of silver and bronze medals two months ago at the Ohio Valley Conference Indoor Track and Field Championships, Austin Peay State University women's track and field team finally saw an individual rise to the top of the podium when freshman Briana Kelly snagged gold in the high jump Friday on Day One of the OVC Outdoor Championships, hosted by SIU Edwardsville at Ralph Korte Stadium.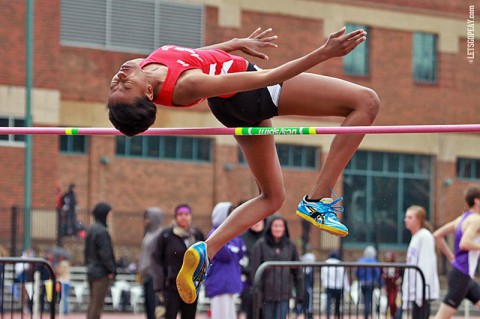 With seven events in the book and a day full of finals ahead, Austin Peay finds itself in fourth place at the conclusion of Friday's competition with 26.5 points, behind Southeast Missouri (57 points), Eastern Illinois (51.5) and Tennessee State (30.5).
That's an improvement on their Day One fortunes at the Indoor Championships, where Austin Peay ranked seventh following the first day of action.
Kelly won gold in the high jump with a 1.65m (5' 5") leap, winning a jump-off against Southeast Missouri's Macy Ritter to secure the top spot. After finishing just off the podium with a fourth-place mark two months ago at the OVC Indoor Championships, Kelly's win is the first outdoor field event gold medal for an Austin Peay athlete since 2010 and the first in a jump event since Keyvia Davis won the long jump in 2008. Freshman Kaylnn Pitts also earned points in the high jump with a 1.60m (5' 3") leap.
Austin Peay's first Friday points came from a pair of freshman long-jumpers. Ashleigh Woods narrowly missed out on her first OVC medal, finishing fourth in the long jump with a personal-best 5.83m (19' 1.50") leap. Also earning long jump points for Austin Peay was Amia Butler, who placed eighth at 5.49m (18' 0.25").
Butler stands to pick up more points on Saturday after qualifying for the finals in the 100m hurdles. She will be in the eighth lane after posting a 14.47 mark in Friday's preliminaries and will be joined in the finals by fellow freshman Myiah Johnson, who qualified fifth (14.26). At the halfway point in the heptathlon, Butler also sits in fourth place with 2739 points, 15 behind Ritter for third place.
Junior Natalie Olberding will lead the 400m hurdles field into Saturday's final. The Iowan posted a blistering 1:02.05, her season's best, to pace the field by nearly a second over Tennessee State's Clairwin Dameus.
In a preview of one of the most-anticipated events at the championships, sophomore Breigh Jones struck first in the 400m dash preliminaries, qualifying first with a 55.10 mark ahead of SIU Edwardsville's Jessica Oranika (55.32). Jones will be joined in the finals by Lady Govs freshman Terri Morris, who qualified seventh (56.87).
Austin Peay will have three competitors in the finals of the 100m and two athletes in the 800m event Saturday. Junior Erika Adams placed second in the 100m preliminaries with an 11.98 mark, and will be joined by sophomore Kymmalett Ross (12.12, fourth) and junior Maikea Davis (12.17, sixth). Junior Jessica Gray is a contender in the 800m after qualifying fourth at 2:13.45, while senior Xiamar Hudson will be in the seventh lane with a personal-best 2:13.77 qualifying run.
Davis and Jones will represent the Lady Govs in Saturday's 200m dash final as well. Davis, Austin Peay's record-holder in the event, qualified fifth at 24.42, with Jones hot on her heels with a personal-best 24.51.
In her final OVC Championship attempt, senior Molly Basch placed fifth in the pole vault with a 3.35m (10' 11.75") mark, her best career conference championship finish.
Among the most pleasant surprises for Austin Peay on Friday was Autumn Schmelzer's javelin attempt. The freshman's 37.46m (122' 11") was a personal-best and placed her fourth overall in the event; she entered competition ranked 11th in the OVC.
Action resumes at Ralph Korte Stadium 9:00am, Saturday, for the final day of competition.