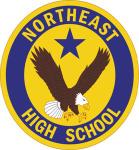 Clarksville, TN – Northeast High School's baseball team scored in every inning, May 2nd at Rossview High School's baseball field, to open play in the District 10-AAA tournament to defeat Springfield High School, 10-0 in five innings.
The Eagles (22-11-1), the third seed in the tournament, pounded out 10 hits and worked four walks against three Yellow Jackets pitchers, while Springfield (11-22-2) only managed three hits.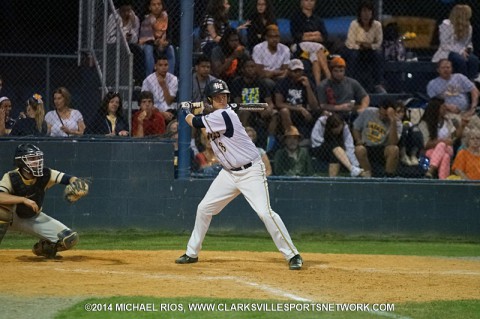 "We were really worried about (Springfield pitcher) Jake Roberson, because we only beat him 2-1 earlier in the year," Northeast coach Dustin Smith said. "We went back-and-fourth on who to throw for us and we decided with the guy who got us here (Ben Wilford) and we were able to get him out early by scoring some runs."
In fact, the Eagles would get their first runner into scoring position just two batters into the game with Clayton Caskey's double.
Wilford would follow with a walk, and after courtesy runner Justin Collins came in to replace Wilford on first base, both moved up a base on a double steal.
That move set up the first run of the game, with Caskey scoring on a Roberson wild pitch, and a batter later Collins scored on a sacrifice fly by Devin Runkle to make it 2-0.
Springfield's best chance of scoring came in the top of the second inning, as Logan Birdwell opened the inning with a single and advanced to second base on a wild pitch, with no outs.
But Wilford got the next three Springfield hitters on two fly balls and a ground out to end the threat.
The Eagles on the other hand had little problem scoring, adding an unearned run in the second inning, and blowing the game open with a four-run third inning.
Runkle would drive in the first run of the third inning with a triple, while coming to to score off Kyle Primasing's double to make it 5-0.
Canaan Tucker would score the third run of the inning by stealing home, on the back side of a double steal, while Eric Webster drove in the final run of the inning with a single.
"The big thing we told the team in our post-game meeting was we scored in every inning," Smith said. "It's tough to beat a team that scores in every inning and we kind of shoot for trying to score at least one run in each inning and that happened for us tonight."
Northeast would tack on a single run in each of the fourth, fifth and sixth innings, on an RBI single by Wilford, a sacrifice fly by Webster and a RBI single from Runkle for the 10-0 final.
Northeast will now face Rossview High School – who defeated Kenwood High School 11-1 in their first-round matchup– on May 5th at 7:00pm in a winner's-bracket game, while Kenwood and Springfield meet in the loser's bracket game at 4:30pm.