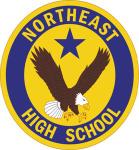 Clarksville, TN – Like so many great games, it came down to one play.
The top two seeds in the District 10-AAA softball tournament: The Clarksville High Lady Wildcats and the Northeast Lady Eagles- faced off at Clarksville High Tuesday, May 6th, and the game was decided by one play.
Tied 1-1 in the top of the sixth inning, a missed ball at third base allowed Autumn Adams to steal home and score the run that let her Lady Eagles defeat the Lady Wildcats, 2-1.
It was a tight game featuring great pitching and solid defense by both teams. Northeast's Ericka Webster got the complete game win. She allowed just one run from six hits with one strikeout.
Clarksville High's Heather Norris picked up the loss. She also pitched a complete game allowing two runs, form five hits with nine strikeouts.
The Lady Wildcats scored first, plating one run in the bottom of the second inning. However, the Lady Eagles responded by scoring a run in the top of the third. The two teams remained deadlocked until the sixth inning.
With two outs, Adams hit a line drive deep for a double. Next, Norris walked her only batter the entire game to put two runners on. While Northeast's Chelsea Prigden was at the plate, Adams attempted to steal third base.
The throw to third bounced out of the third baseman's glove and rolled into left field, allowing the sliding Adams to hop up and steal home to give the Lady Eagles the 2-1 lead.
The Lady Wildcats had two at bats to try and at least tie the game, but failed to score. In the bottom of the sixth, both McKenzie Rose and Tiana Gray hit singles to get on base with two outs on the board, but were left stranded on a pop fly for the third out.
In the bottom of the seventh, the Lady Wildcats batters were retired one, two, three, with two groundouts at first and a pop fly.
Adams double in the sixth was her only hit for the day. Alicia Veltri hit the Lady Eagles only RBI. Kayla Bradley went 2-for-3 with a single and a double.
Katelyn Devers hit an RBI single to score the Lady Wildcats first run in the second inning. Rose and Gray both batted 2-for-3 with two singles.
The Kenwood Lady Knights defeated the Henry County Lady Patriots, 3-0, in the early game on Tuesday. As a result the Lady Knights and the Lady Wildcats will play each other in an elimination game Wednesday, May 7th.
The winner of the elimination game will go on to play the Lady Eagles in the District 10-AAA tournament championship game.
Photo Gallery
Box Score
| | | | | | | | | | | |
| --- | --- | --- | --- | --- | --- | --- | --- | --- | --- | --- |
| | 1 | 2 | 3 | 4 | 5 | 6 | 7 | R | H | E |
| Northeast Lady Eagles | 0 | 0 | 1 | 0 | 0 | 1 | 0 | 2 | 5 | 1 |
| Clarksville High Wildcats | 0 | 1 | 0 | 0 | 0 | 0 | 0 | 1 | 6 | 1 |